I bought a house.
I started house-hunting about a year and a half ago, when it appeared that my job was secure enough, and that I had near-enough money for the downpayment. I didn't house-hunt with much enthusiasm; the apartment I lived in was nice, and close to work, and I probably could have remained there mostly-happily. But then I saw a wonderful house along the road I take to walk to work, and I phoned my real-estate agent and asked him to come view it with me immediately. I put in an offer the next day.
It turns out that the sellers had a previous offer already in hand, and so I lost that house. So I bought the one next door. 🙂
In retrospect the "house next door" is the better choice for me. It's smaller and less "modern" than the first one. Its dominant colour scheme features earth-tones like yellow and red-brown. And aside from its excellent location– close to work, grocery store, Gatineau Hills park, bus route, and so on– I was "sold" by a curious renovation made by the previous owners. They demolished a wall between two of the bedrooms, thus creating a master bedroom that's as big as most people's living rooms. That huge room is now my library.
Buying a house was not the most stressful thing I've ever done in my life, but it comes very close. Every time I thought I knew what I was doing, something unexpected appeared which no one warned me about. For instance, the building manager at the old apartment seemed to want to punish me for moving out. I had to scramble for an insurance company when the first one I contacted, the same one my employer uses for group insurance, turned me down. The store where I bought my appliances forgot to send me my stove; I didn't have a stove in my kitchen until yesterday. Worst of all: a few hours after I delivered the downpayment, the notary phoned me to say that I was short by– well I best not say exactly, but it was a five-digit figure. There was (and still is) no explanation; and my mortgage broker said it made no sense to him either. He stayed up late at night trying to find out where the miscommunication was. For about 48 hours, I thought I was facing complete bankruptcy and homelessness. Eventually I extended my line of credit to cover it. I still have no idea what happened there, but I'm working with the bank and the local chamber of commerce to figure it out.
It's been about three weeks now (although I spent one of those weeks out of town) and most of that time I wandered around the house and yard, looking at things, touching things, and feeling the weight of the financial responsibility. I am now ten times deeper in debt than I was with my student loan. I've unpacked slowly, and often rearranged furniture as I went. I think it was when I first hung the art on the walls that the house felt finally "mine". I'm mostly done unpacking and arranging things now. I might be cleaned-up enough to receive visitors this weekend.
Until then, here are some photos, at last!
Here's the house as it appeared on the MLS listing, back in October. Oak tree on the left, maple on the right. (Yes, it's a clue pointing to where the house is. Please don't stalk me.)
Here's the first view of the living room, after you step in the front door. I built that bookshelf myself, around 20 years ago. And I'm the author of all the books you see stacked there. Yes, this is a transparent attempt to wow my guests. I know it doesn't work. But what the hell.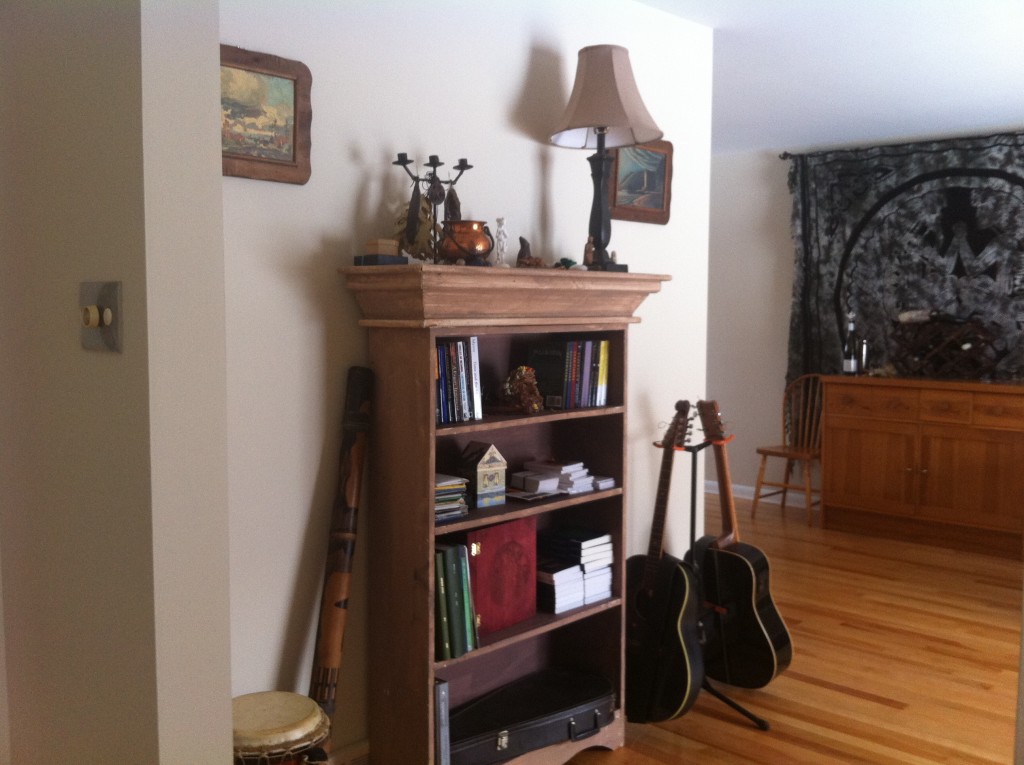 The dining room, which is actually an extension of the living room. The painting of the beach on Innis Oir was made by my mom; the table, corner hutch, and sideboard are the same kitchen furniture from the house in Elora where I grew up. This was my parents' housewarming gift to me, and I can't imagine a better one.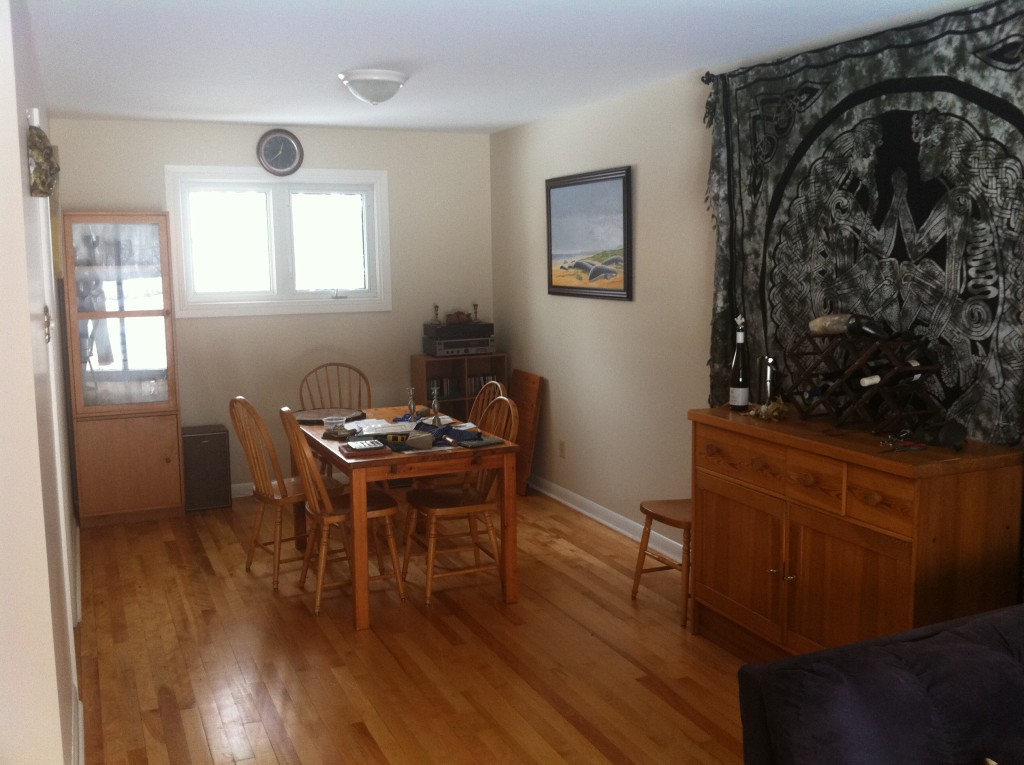 Huge, wide, floor-to-ceiling windows in the living room. I need four curtains to cover it at night.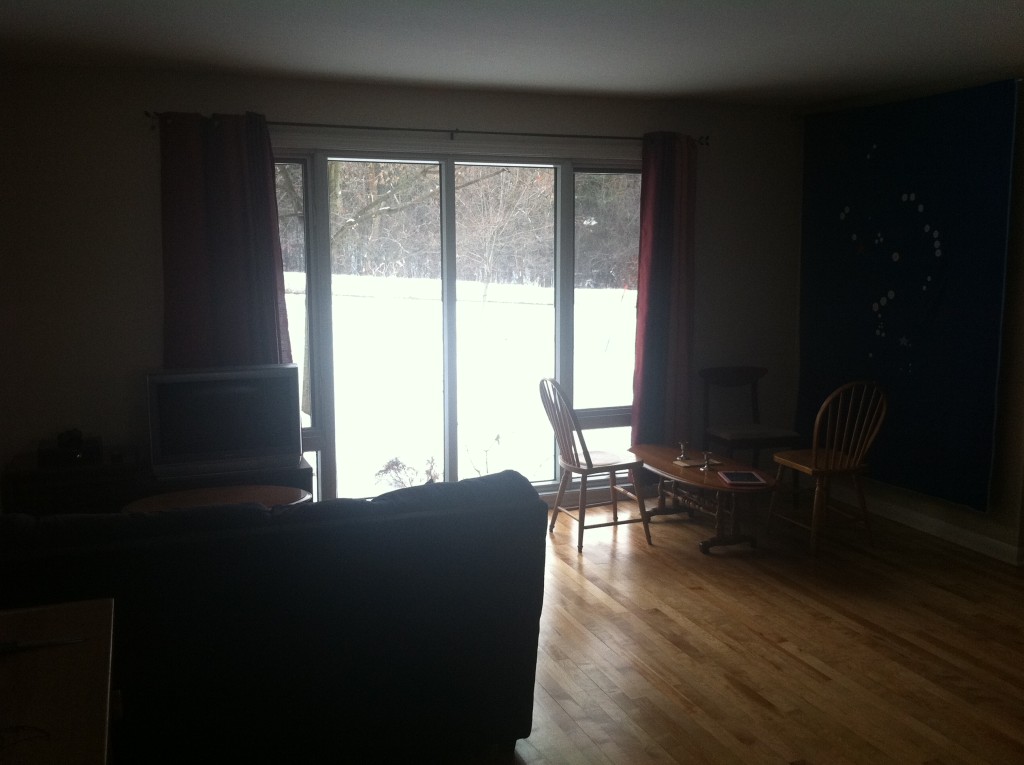 View from the front windows, today. That's seventeen inches of snow out there– yes, I got a tape measure and I measured it.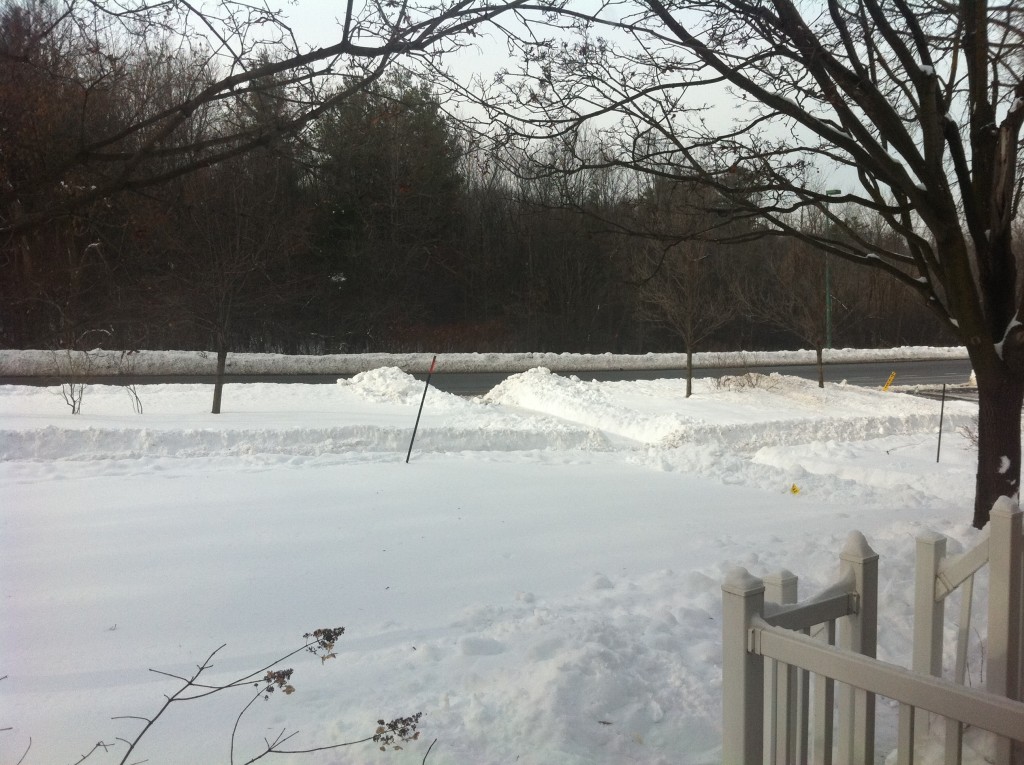 Here's part of the kitchen (and a view of Mom's painting again). The fridge is standing out like that because it's too tall to fit in its niche. It will be replaced next week. Note also my map of Skyrim. I think it goes nicely with the shelf below it.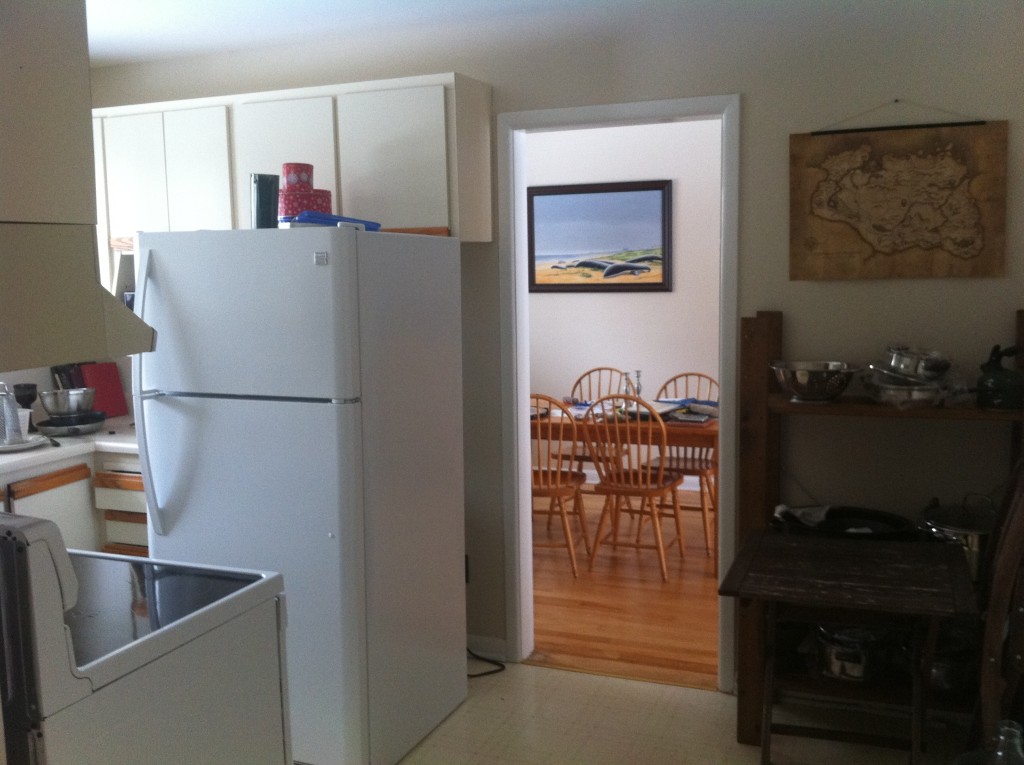 The library.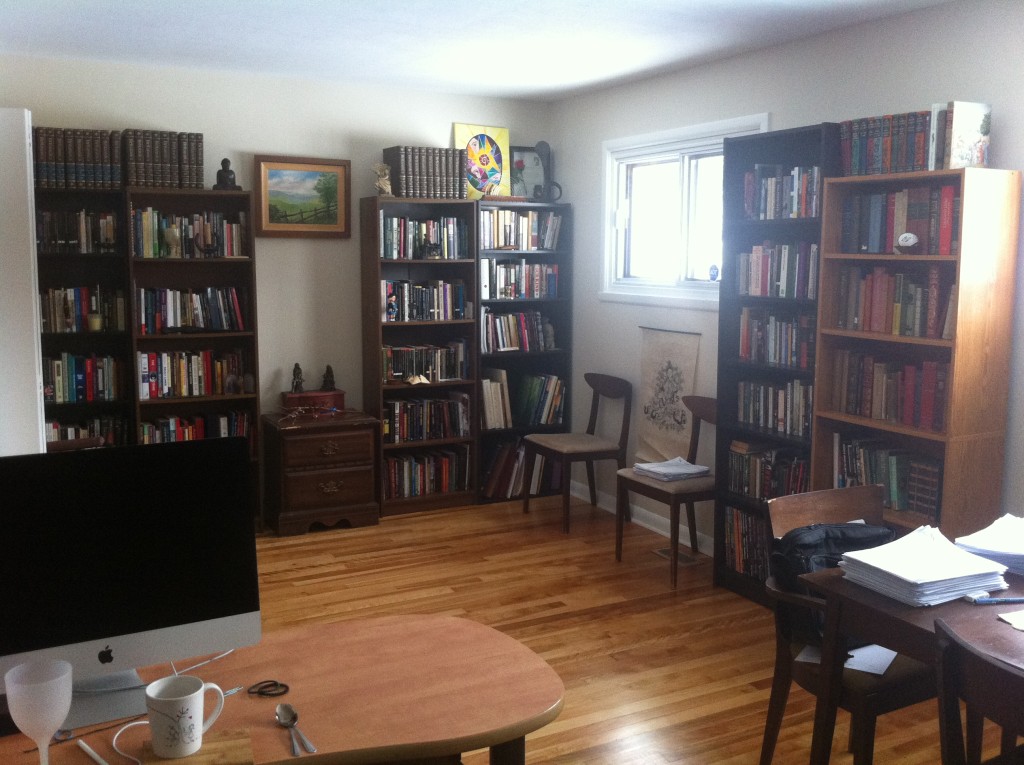 Philosophy on the left. Mythology, history, anthropology on the right. (Other categories out of shot).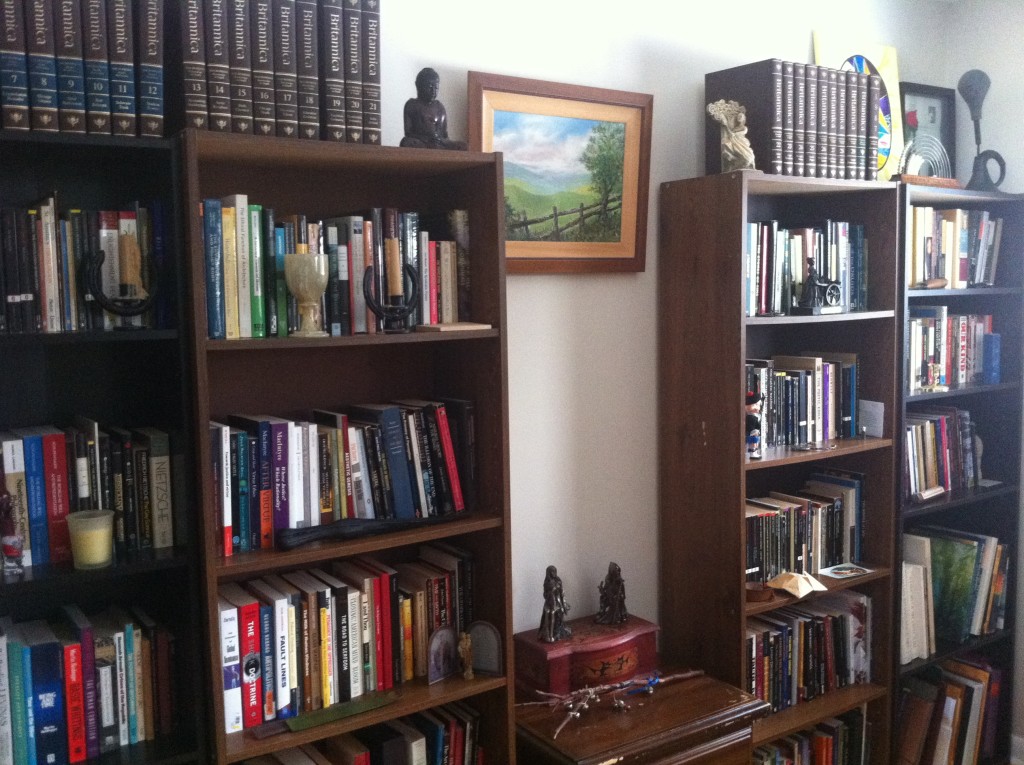 Writing and study area. Also, my essay-marking area.
The back yard. I don't quite know what to do with it yet; I've never had a green thumb and I'm not really interested in gardening. I might just plant more trees.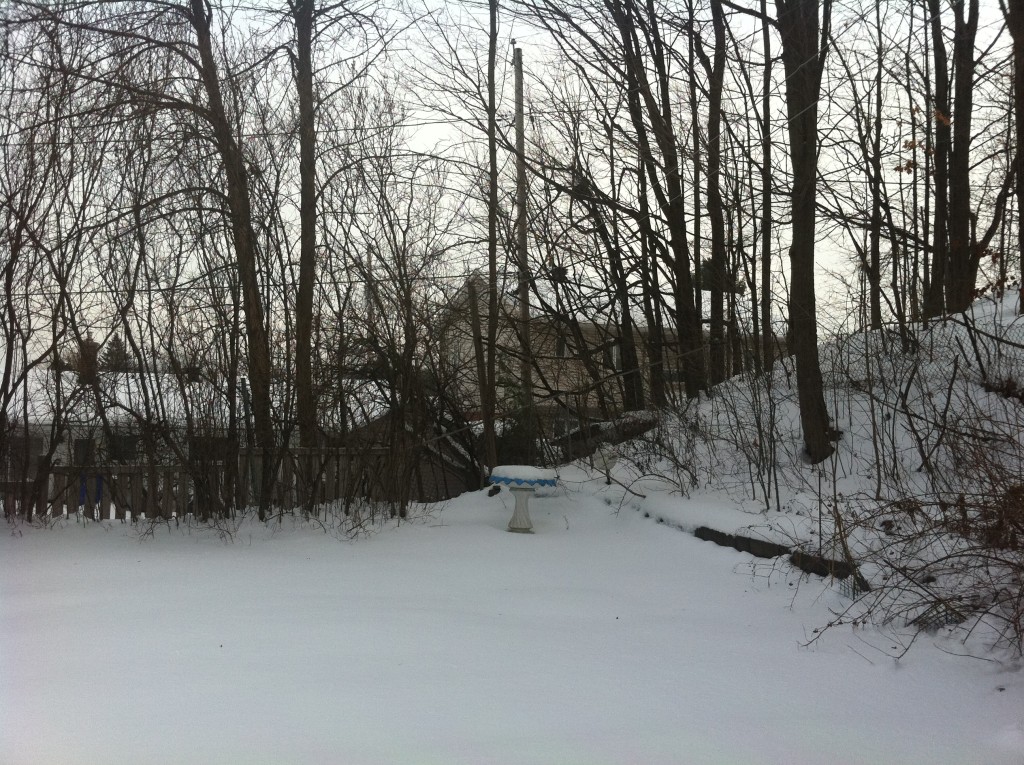 The basement. The previous owners, or someone in the history of the house, put a bar down here, complete with fridge, sink, lights, built-in blender, cushioned ledge, 70's era porno-film carpet, and fake English Tudor timbreframe on the ceiling. As fun as this is, I plan to pull all of this out during the renovations, and install a proper kitchen.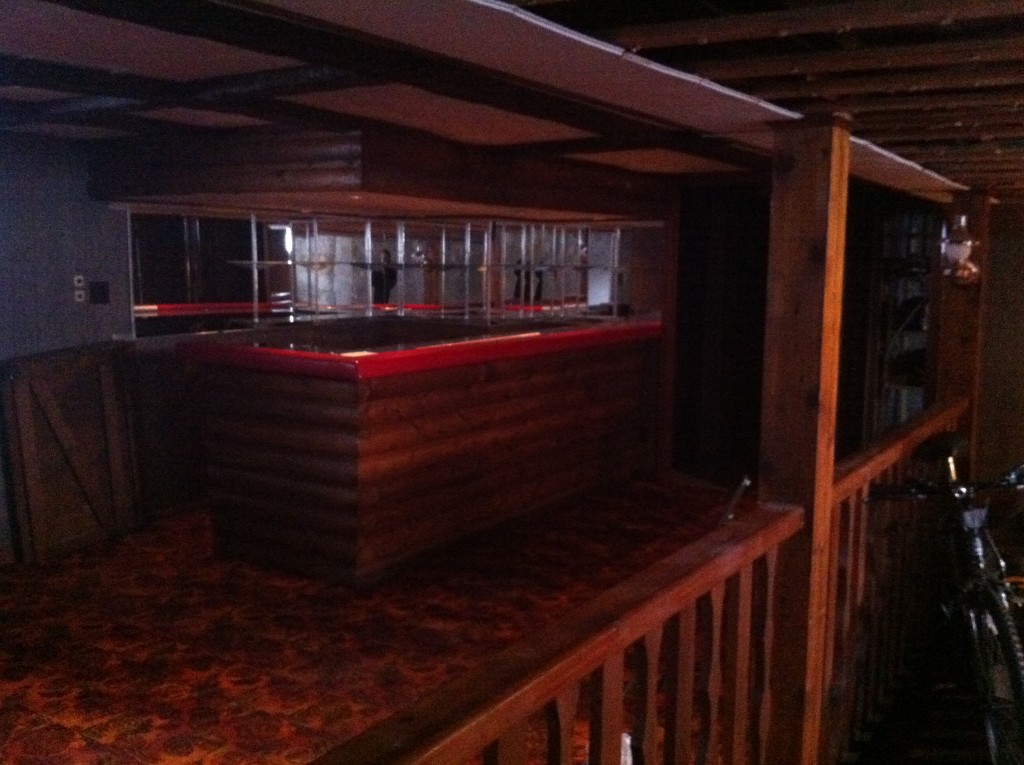 In fact in February I'm planning a full scale renovation of the basement, because most of it looks like this: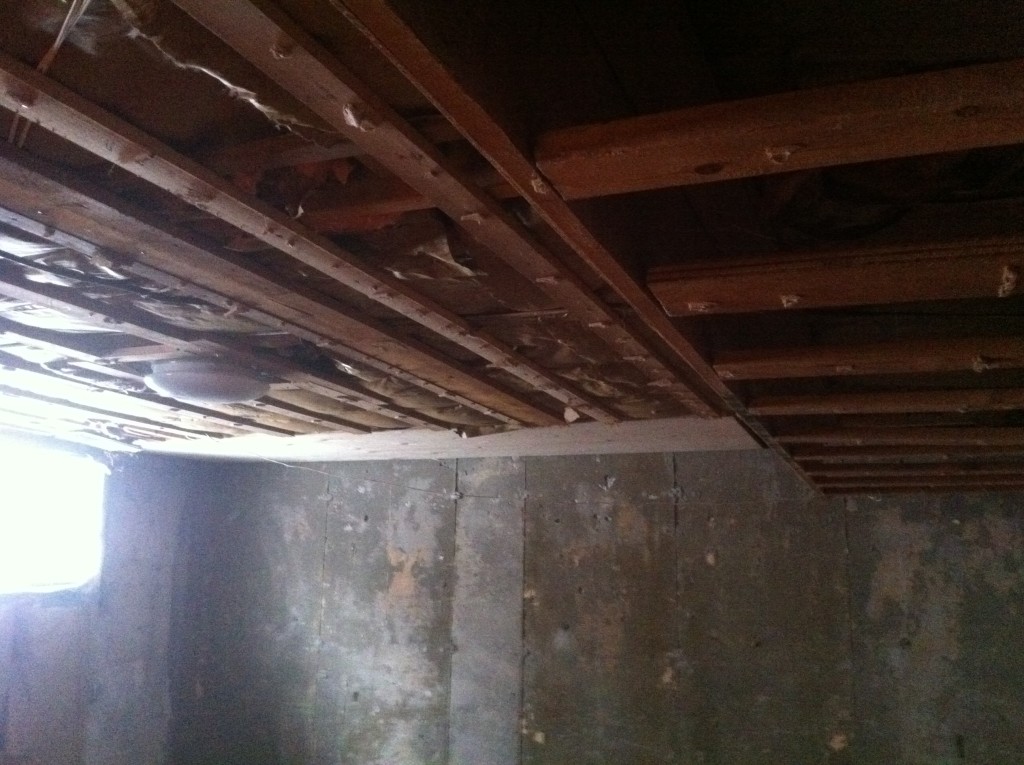 Basement bathroom. I've never seen a urinal in a private home before!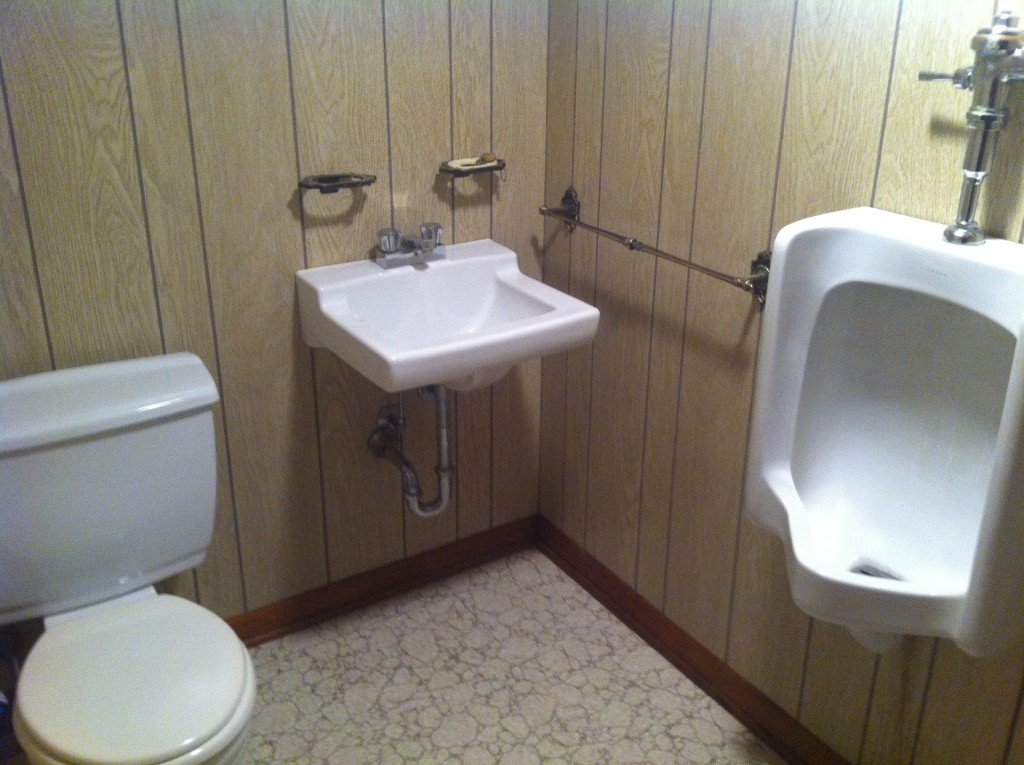 And finally, I shoe-horned my bed into the smallest room in the house.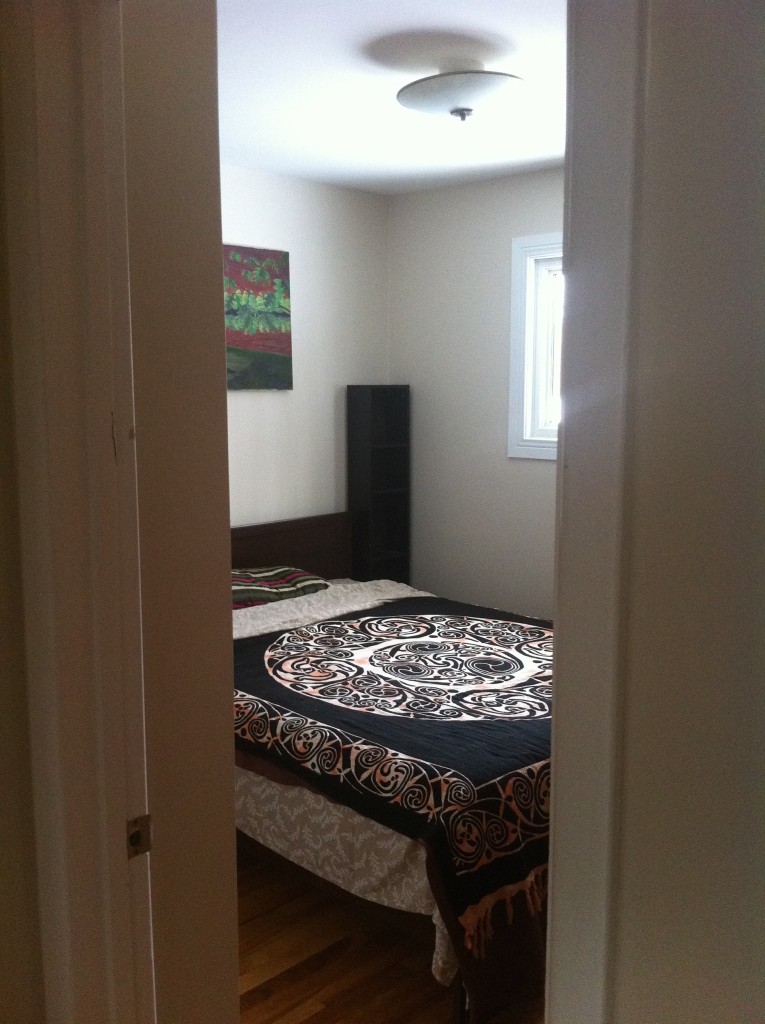 There it is. As I grow more comfortable with this house, plans for it start growing in my mind. I'd like to host music nights with my guitar-playing friends, or salons in the style of the 18th century French philosophes. After the renovations, the basement will have a rentable unit, and a guest bedroom. And, of course, I plan to write many more books here. I think this will be a good home for me, for the next however-many years.
Incidentally, I have about 40 gently used cardboard boxes now. Do you need them for your next move? If you can come and get them, they're yours. I don't plan to move again for a while.