What is civilization?

And is it a good thing?

It's a name for the most glorious of humanity's monuments
and cultural achievements,

yet it also speaks of the conquests, oppressions, and empires
which make their glory possible.

This book explains the essence of civilization,
then asks what's wrong with it,
and considers what can be done about it.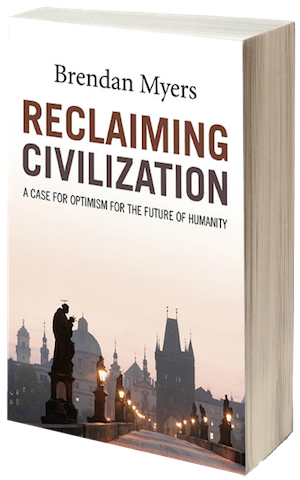 "Brendan Myers is one of the most creative and exciting of contemporary Pagan philosophers whose new book Reclaiming Civilization is filled with arresting insights and closes with a fascinating discussion of virtue ethics' relationship with life's "immensities." There is good food here for the mind and the soul."

~ Gus DiZerega, Political scientist with the Atlas Economic Research Foundation, author of Fault Lines and Persuasion, Power, and Polity.

"This is a very interesting discussion of one of the central issues of the current world, and indeed of all history, which puts under scrutiny a number of common assumptions which are seldom examined."

~ Ronald Hutton, Professor of History, Bristol University

"Brendan Myers is that rarest of creatures, a philosopher who writes in a style that is eminently readable, refreshingly jargon-free, not remotely patronising and, what's more, genuinely engaging... Myers demonstrates a remarkable breadth of knowledge of prehistory, history, politics and philosophy, from the earliest stirrings of humanity to the present day. That he can analyse with such clarity the seemingly chaotic mess we as a species have got ourselves into is remarkable in itself. Even moreso is that he is able to untangle the chaos sufficiently to draw from it causes for optimism and a plan for the future that might just see us thrive rather than merely survive. Anyone running for political office should not be allowed to do so until they have read this book. If this were done, the world would undoubtedly be a better, safer, saner place."

~ Philip Shallcrass, Founder and Chief of the British Druid Order
Published by Moon Books
An imprint of John Hunt Publishing.

Purchase from:

Your local bookstore!

Other links:

View a Photo Gallery of places described in the text, or visited by the author while writing the book.

Listen to the author's impressions of Bohemia, a travel journal I wrote while while researching the book, part of which became the two 'intermissions' of the text.

Brendan's author page on Amazon.com

Brendan's author page on Moon Books.net

About the Author

Brendan Myers is the author of seventeen books in philosophy, environmental ethics, history of ideas, spirituality, urban fantasy fiction, and game design. He earned his Ph.D in philosophy at the National University of Ireland, Galway, and now serves as a professor at Cégep Heritage College, in Gatineau, Quebec, Canada. He lives in a library, next door to a forest.