Her starship could save the world from itself.

But the world has to want to be saved.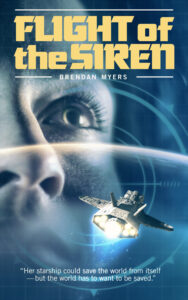 Lorelei Verlassen took the first job she could get after finishing her PhD: installing comm relays in the ice belt. There she found a crashed alien space probe, containing blueprints for a faster-than-light engine.
Without knowing if the probe's creators still exist, she and her crewmates persuade The Conference of Nations to build a starship, to launch a new era of space exploration for all humanity. But various factions conspire to subvert the project for themselves.
To protect her ship, Lorelei must navigate a political whirlwind of ambition and deceit, without losing her moral integrity. But the clash of corporations, military juntas, and fanatical religious groups could destroy her world before her ship is ready to fly.
"Flight of the Siren is a masterpiece. It isn't about outer space or aliens, it's about us, and we are the weirdest subject imaginable. It is probably the most detailed study you will ever read of the near-infinite number of ways nations, organizations and individuals will compete for purely imaginary advantages over one another. An amusing satire well worth reading. Recommended."
—Amazing Stories. Click here to read the full review.
"The events in the story are paced brilliantly. There's not a lot of downtime, and I found myself reading at a very good clip. The world-build is rich and well-constructed. Lorelei is brave and persistent and easy to identify with. I understand what she wants and why she wants it. I want her to have it. The ending is satisfying and touching; hopeful and grief-filled all at once."
–Meg Elison, winner of the Philip K. Dick award.
Brendan Myers is a philosopher using hard-SF to ask deep questions about humanity and our place in the universe.
–Jordan Stratford, author of Wollstonecraft and Winter By Winter.
I am deeply grateful to the people who provided financial support for professional editing and design services through Kickstarter.com, the internet-based crowd-funding service. Among them, the following backers pledged $30 or more: Robert Hart, Robert Meeks, Alfred, Kimberly Hawkland, Sara Korn, Levar Jones, Cory Hutcheson, Albion Gould, Rosmairta Kilara, Yewtree, Joe Roy, Gillian Shields, Jennifer Gibson, Turlough Myers, Ivo Dominguez Jr., Eric Hortop, Stan Yamane, Pat Bellavance, John Bookwalter Jr., Sionain E McCann, Frank L Jenkins, Todd McGrattan, Tara Egan, Paul Elliot-Magwood, Lars Nohrstedt, Tony Schlisser, Barbara Pott, John Hoke, Joel Belland, Brian K., Thomas Schwartz, Zara, Todd Pote, Elaine Stutt, Mark-Anthony Page, Sian Reid, Lindsay Harris, Bridget Gole, Chris McLaren, Gwendolyn Guth, Lisa Bland, Catherine Haynes, Iona Reid, Scott Tizzard, William Apple, Jonathan Colvin, JD Ferries-Rowe, Ezekiel Zong-Han Azib, and two supporters who remained anonymous. I remain forever grateful to everyone for their kindness and support.