The last time I visited Ireland, my other "my country", was 2009. Yesterday I got this painting from my dear friend Corina Thornton, an artist based in Ireland; and as you can see, I've hung it just above my writer's forge. It's called "The Last Fence" and it gives me no end of joy: partly knowing it's from a friend, and mostly from imagining what magical and philosophical discoveries might be made in the undiscovered country before me, just one hop over one last fence.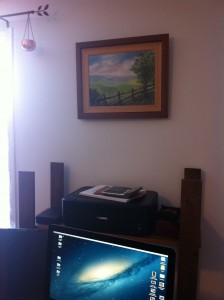 Here is a closeup of the painting: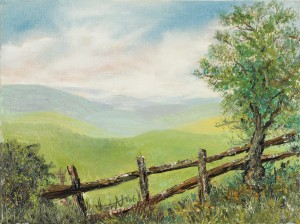 I sometimes tell people that I live in a library, because one of the rooms in my apartment has a wall that's nothing but books, over 800 of them, wall-to-wall and floor-to-ceiling. But over the last six months I've decked my white walls with a landscape (a lake-scape?) by local Ottawa artist Gordon Coulthart, and a water-scape by Elora artist Carolyn Sharp, and a special poem-painting by my dear friend Marie-Claude Dufour, and some reproductions of classics by The Group of Seven. I've also picked up from my parents some canvasses I painted back in high school. Maybe my library is turning into an art gallery.