I like to include a nonsense question on the front cover of my exams. The idea is that if there's something on the exam that students can laugh at, then they might be a little bit less stressed about it. I've asked students to write their blood types or their height in cubits; I asked my science students what was the square root of their age multiplied by today's date; I asked who was the most famous person they've ever met. (Several had actually met Prime Minster Stephen Harper.) In one of my exams this year, the front-cover nonsense question was: "What was the last book you read, not for school, but for fun?"
Out of 28 students in that class, many left the question blank. And one answered that he didn't have time to read anything but the book that was required for my course (which was Plato's The Republic). Those who did answer surprised me a little bit: for although many of them were reading popular books, they were not necessarily reading "easy" books. Here's what they said they are reading:
Orwell, 1984
Toni Morrison, Beloved.
Book called "Magyk"
The Hobbit
Roseland Avenue
The Great Gatsby
Kate Morton, The Secret Keeper
Creep
Game of Thrones (entire series)
Song of Fire and Ice
A Storm of Swords
Ender's Game
Tennessee Williams, A Streetcar Named Desire
The Hunger Games (entire series)
Catching Fire
Motor Trend (magazine)
Now, this is nothing like a scientific study of the reading habits of people in their late teens (that's the age group of most of my students in that class.) But there's some observations to be made here.
The first and obvious observation is that young people will read a book after it's been turned into a TV series or a movie. George RR Martin's "Game of Thrones" series was the obvious winner here: more students mentioned a book from that series than any other book (or series). The Hunger Games series was a *very* close second to Game of Thrones, and as you can see there was at least one person reading The Hobbit and at least one reading Ender's Game. Same with Tennessee Williams stage play, if you include works that were made into films many years ago. One wrote that he is reading The Hobbit precisely because the second movie based on that book is coming out soon.
Another observation we can make here, which I find more interesting, is that many young people really are willing to read long, complex, and time-demanding books – and they're willing to read them for fun.
For all my writer friends, this is good news.
I've been watching Doctor Who since I was small – Tom Baker was my Doctor. So the 50th Anniversary of Doctor Who got me thinking: what is this complicated, wonderful, beautiful, and very very weird show all about? I've settled on four themes. There might be more, of course, but this blog post got to 2,700 words so I thought it best to stop at four. So here we go:
Childhood Wonder
The doctor is always curious and excited to see new things, and discovering new life forms and new worlds always fills him with delight. Even when faced with great danger, the doctor sometimes still finds something to delight about. For instance, in one such situation, Doctor Baker* said,
That's intensely interesting. Do you realize there's nowhere to go? We're on the edge of the cosmos, the frontiers of creation, the boundary between what is and isn't. Or isn't yet, anyway. Don't you think that's interesting? I feel just like a goldfish looking out on a new world.
Similarly, Doctor Pertwee told a companion "Before you start annihilating the thing, why don't we just take a look at it?" And doctor Eccleston once chastizes a group of soldiers for shooting and killing an alien creature instead of looking at it properly: had they looked closer, they would see it was only frightened, and wasn't threatening anyone.
This unrepressable curiosity sometimes appears as madness to his companions: and he has sometimes capitalized on this perception of him. For instance, Doctor Hartnell told his granddaughter: "You know, Susan, I think your old grandfather is going just a tiny little bit around the bend." Similarly, Doctor Smith says to his companion Amy Pond: "there is something you need to understand, and someday your life may depend on it: I am definitely a madman with a box." On another occasion, when someone tells him he's basically crazy, Doctor Smith dons a sly grin and says, "I know."
In the light of this, I find it very, very interesting that some of Doctor Hurt's** lines seemed to deliberately subvert the childhood wonder theme. He chastizes both Smith and Tennant for their signature boyish battle-cries "Allonz-y!" and "Geronimo!" by saying in response, in a kind of condescending tone: "Oh for god's sake!" He had chastized them both previously with his heavily judgmental question: "what is it that makes you so ashamed of being a grownup?" The question is interesting in two ways. One is that the grownup doctor in the scene is also contemplating committing a war crime of almost unimaginable proportions: the genocide of two entire races, one of which is his own. And the other two doctors know it. And they don't want to do that terrible thing ever again.
The other interesting thing about Doctor Hurt's cutting question is we, in the audience, are invited to answer it. Doctor Who is, among other things, a kind of fairy tale about a flamboyant mysterious man who takes us on fantastic adventures in faraway places, and solves whatever problems we might find there. And the story is often told in the mode of melodrama: with our heroes ever in extraordinary danger, an overall heightened sense of emotional intensity, a "stock character" (the Doctor himself, who is so 'stock' that he doesn't even have a proper name, just a title) and sometimes "stock" antagonists (like the unambiguously evil Daleks). And, true to the melodrama style, there's a musical score to accompany the story! Audiences love that sort of thing. But this is the dramatic model best suited to a children's story. What is so terrible about an adult story? Why does Doctor Who rarely see morally ambiguous heroes, or morally sympathetic villains, or other not-melodramatic, definitely adult problems?
To which it might be replied: we sometimes do see villains who are motivated by something noble, even if their methods for attaining that goal are deeply evil. The Rani, for instance, is motivated by scientific inquiry, and so she is a kind of foil to the doctor himself. But this is an exception, not a rule. The most consistent villains, such as the Cybermen, the Master, the Great Intelligence, and of course the Daleks, are motivated by straightforward antisocial sentiments like total-conformity, revenge, power-madness, and hate.
Also, I understand that this is a question the show's producers sometimes struggle with: the question of whether Doctor Who is a children's show or whether it's a drama series for adults, with adult themes. The show sometimes does address serious moral dilemmas and adult-world problems. We've seen the Doctor grapple with the question of genocide before: in the 1975 serial "Genesis of the Daleks" Doctor Baker is given the chance to wipe out all Daleks by going back in time and interfering with the events of their creation. But he doesn't do it: he decides that no one has the right to wield that kind of power. That's an adult story. Similarly, we have seen a few occasions when the doctor shows us the guilt and the loneliness that visited him after his decision to exterminate the Daleks (!) at the cost of doing the same to his own people. Guilt and loneliness are very adult themes for a drama. But these occasions were often quickly covered up by the character's irrepressable cheerfulness, and the urgency of whatever problem he was facing at that time. And I think that's too bad, really: morally ambiguous heroes and sympathetic villains are interesting, and audiences enjoy their stories as much, if not more, than they enjoy the simple pastel colours of the melodrama. (If I may be so bold: if I had a chance to write an episode of Doctor Who, I'd write a story that creates the right harmony of childhood wonder and adult moral complexity.)
But enough of my critical comments for now. Here's another theme, curiously connected with the theme of childhood wonder, while at the same time being an 'adult' theme:
Science and rationality.
It's in the nature of the show, especially since Moffatt took over as its director, to find ordinary things and makes them scary. Shadows. Mirrors. Cracks in the wall. Wifi networks. Storefront mannequins. Statues. Children wearing gas masks. The upstairs neighbour. Little black boxes. This enchantment of the ordinary, even in the mode of terror, is a major feature of fairy tales. And as mentioned, Doctor Who is a kind of fairy tale. So, we're supposed to find those things scary. But the doctor always wants to figure out the solutions to problems, and he's never satisfied to let mysteries remain mysteries. "To the rational mind, nothing is inexplicable, only unexplained," said Doctor Baker. And similarly, Doctor Hartnell said, "You wanted advice, you said. I never give it – never. But I might just say this: always search for truth." And Doctor McCoy reminds us to find what's interesting in everything: "Nothing's just rubbish if you have an inquiring mind." This commitment to science inspires his friends. This is why Leela, who originally came from a pre-industrial society, says: "I, too, used to believe in magic, but the Doctor has taught me to believe in science. It is better to believe in science." This should inspire us too.
All the problems the doctor meets, including all the apparently supernatural forces, turn out to have scientific explanations. Of course, those explanations are often of the science fiction variety: aliens, time travel paradoxes, futuristic technology. Thus the explanation often turns out to be the kind of science which, in the thinking of Arthur C. Clarke, is advanced enough to be indistinguishable from magic. And so our sense of childhood wonder is preserved. But the point is that these threatening forces have explanations. We do not have to just accept mysteries as mysteries. We get to pull the curtain back and see what's behind it. I'd go so far as to say that the Whoniverse might be a "Republic of Heaven", to borrow Philip Pullman's terms.
In fact, the Doctor's superior knowledge, his advanced quasi-magical technology, and so on, is enough to make him an almost godlike hero. Some of the other characters certainly see him that way: Tim Latimer says of him that "He's like fire and ice and rage. He's like the night and the storm in the heart of the sun… He's ancient and forever. He burns at the centre of time and can see the turn of the universe… and he's wonderful." And Martha Jones described him as follows: "…his name is The Doctor. He has saved your lives so many times and you never even knew he was there. He never stops. He never stays. He never asks to be thanked. But I've seen him, I know him. I love him. And I know what he can do."
Indeed, the doctor is so powerful that in several episodes he's able to fend off alien threats like the Atraxis, the Vashta Nerada, the Cybermen, and even an entire fleet of alien battleships, by appealing to his reputation! That fleet of battleships had actually united their forces to imprison him in the Pandoricon: a fact the Doctor didn't know at the time. So on second viewing, that scene has a certain irony. But their assembly in the first place was all about his reputation: they were imprisoning him because they thought he was the most dangerous being in the universe.
But back to the point about knowledge. Doctor Smith, in one of his best moments, reveals just how deep his knowledge goes:
I have lived a long life, and I have seen a few things. I walked away from the last Great Time War. I marked the passing of the Time Lords. I saw the birth of the universe and I watched as time ran out, moment by moment, until nothing remained- no time, no space, just me! I walked in universes where the laws of physics were devised by the mind of a mad man. And I've watched universes freeze, and creation burn — I have seen things you wouldn't believe, and I have lost things you will never understand. And I know things. Secrets that must never be told. Knowledge that must never be spoken! Knowledge that will make parasite gods blaze!"
What's interesting about this speech is the way it condemns a false god as a parasite, while at the same time the doctor describes himself in surprisingly godlike terms. It probably helps that the scene is filmed in a highly melodramatic style. We should hope that a man as powerful as the doctor is on our side. And fortunately, he is. And this is partly because the doctor's companions frequently hold him back from assuming godlike rights and powers. Donna says to him that he needs companions because, as she tells him, "sometimes you need someone to stop you." And she's right.
Besides, Doctor Ecclestone warns us not to treat him as a god: "Don't worship me. I'd make a very bad god. Wouldn't get a day off, for starters."
There's two more themes that reassure us that he's on our side:
Non-violence
Another aspect of the doctor's commitment to rationality is the way he prefers to solve problems by persuasion instead of by violence. In any situation, the doctor is always the one with the most knowledge and the most cleverness: this is his advantage, not his capacity for violence. Doctor Troughton despaired for the prevalence of violence when he said how sad it was that "People spend all their time making nice things, and other people come along and break them." Instead of threatening an enemy, he will try to show that enemy a new fact or a new possibility that he (or it) might not have considered, or might not have known about. He tries to find the solution that's best for everyone. An example of this occurred in the 50th anniversary special when doctors Smith and Tennant say that the best negotiations happen when no one knows what side they're on, and so the doctors manipulate the memories of two characters such that neither knows which of them is a shape-shifting alien trying to take over the other one's planet. As an aside, that moment is the best depiction of John Rawls' "Original Position / Veil of Ignorance" thought experiment that I've ever seen in pop culture.
Doctor Baker's famous lines about guns expresses the character's preference for persuasion and rationality over violence: he says, "Have you noticed that people's intellectual curiosity declines sharply the moment they start waving guns about?" And Doctor Baker (the second) said of guns: "No thanks, I've given them up. Guns can seriously damage your health, you know." (This line reminds me of the Goon Show, a BBC radio comedy and predecessor of Monty Python, but never mind that for now.) It's also noteworthy that the doctor himself doesn't usually show aggression unless someone interferes with his attempt to find the best solution for everyone. On such occasions, however, his anger and his means of punishment can be very, very severe. That's where his godlike side comes out: and again, that's why he needs his companions.
Humanism
For me, the most outstanding theme in the whole series, right from the very beginning, is a kind of humanism – that is, optimism about humanity's future, and confidence in humanity's natural goodness. This theme has been repeated many times in the series. My favourite statement of this humanism is in Doctor Baker's words in "The Ark in Space":
Homo sapiens… What an inventive, invincible species. It's only a few million years since they crawled up out of the mud and learned to walk. Puny, defenseless bipeds. They've survived flood, famine, and plague. They've survived cosmic wars and holocausts. And now, here they are, out among the stars, waiting to begin a new life, ready to out-sit eternity. They're indomitable. Indomitable!"
And to reinforce this theme, Doctor Eccleston reaffirms it in the very first episode of the new (2006) series. While arguing with the Nestene Consciousness, who was trying to take over the earth, he appeals to humanity's potential for greatness: "This planet is just starting. These stupid people have only just learned how to walk, but they're capable of so much more." Actually, the doctor's interest in humanity is part of his larger interest in life in general, as we hear in Doctor Troughton's words: "No, Mr. Terrall, I am not a student of human nature. I am a professor of a far wider academy of which human nature is only a part. All forms of life interest me."
Doctor Eccleston is sometimes cynical and judgmental of people; he calls us "stupid apes" several times. But he loves us for all our faults, just the same: the overwhelming attitude is that of confidence in humanity. "It might be irrational of me, but human beings are quite my favourite species," said Doctor Baker. Similarly, Doctor Eccleston said that an ordinary man is the most important thing in the universe. This confidence in humanity is so important to the doctor, that River Song is moved to say of him: "Everybody knows that everybody dies and nobody knows it like the Doctor. But I do think that all the skies of all the worlds might just turn dark if he ever for one moment, accepts it."
We live in a time when so many social, cultural, religious, political, and personal values are changing. Very few people believe that there's such a thing as an absolute truth about anything: we trivialize good questions by saying things like "That depends," or we dismiss good ideas by saying "That's just your opinion". Or if you're an academic you might dismiss an argument by saying "That's anthropocentrism". In that sense, Doctor Who is a surprisingly modern rather than post-modern show. It stands for a number of definite values, foremost among them values like the one's I've just described: childhood wonder, science and rationality, nonviolence, and humanism.
And now, Doctor Capaldi would seem to have a new mission: to find Gallifrey. These are the values that will shield and uphold him on his quest. I hope he succeeds: if Gallifrey is a place where those values are honoured, I'd like to find it, too.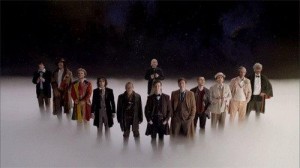 Notes

* I'm naming the doctors by the actor's names instead of by the usual convention of their numbers in order of broadcast. This is because there's now some doubt among fans about whether John Hurt's portrayal of the character is a "doctor" or not, and thus it's hard to place him in the usual numbering scheme. But I also do this as a sign of respect to the actors. They are not numbers: they are men, actors, artists, human beings; and I think they deserve acknowledgement as such.
** I'm calling him "Doctor Hurt" because he's played by John Hurt, and because he's the incarnation of our hero who decided to give up the name of Doctor to become a warrior – ie. one who hurts people (!), instead of heals them, although presumably for the sake of a noble cause. I know that the character himself rejected the name. I'm calling him Doctor anyway because at the end of "Day of the Doctor", he earned a kind of redemption, and doctors Tennant and Smith addressed him as Doctor. If their word isn't good enough, I don't know whose is.
My Kickstarter campaign for The Fellwater Tales RPG ends in about a week. And if you have looked at the campaign page recently, you'll see we're nowhere near the target.
This is not for lack of trying. The game was featured on eight tabletop gaming blogs – one of them featured the game several times (Thank you Pat!). My press release went out to about 50 gaming blogs. It was on Fantascize.com three times, where it was seen by their 215,000+ followers. And of course, all my team plugged it on our own Facebook / Twitter pages as often as possible. It was shared on Twitter (once) by Cory Doctorow, a very big name in gaming. Still we raised only about $1,300 from 21 backers: that's only 13% of the target.
Therefore, although there's about a week to go, I think it's time to admit that this fundraising campaign is a failure.
There are a few reasons for this that I can think of. One is that the tabletop gaming market might be saturated (again!). Another is that this may have been a bad time of year. The biggest reason is probably that I could not devote all my time to the campaign: I'm still a fulltime college professor so I have to give most of my time to that. And I had my TED talk in the middle of the campaign. I also ran a publicity giveaway stunt for my novels which I had hoped would cross-over into the games somewhat, but it seems to have failed as well. My last Kickstarter campaign hit its target in 13 days because I was able to work on that campaing non-stop the whole time. Then (with a big boost from JS), it ballooned up. But this time, I was unable to work on it nearly 24/7.
It's also true that I don't really have any fingers in the gaming community anymore: I'm much better known as a writer of nonfiction in philosophy and in paganism, and a writer of fantasy fiction. People who back gaming projects probably thought I was an unknown newbie.
A last reason, by the way, is that I strongly suspect that one of the advertising agencies I worked with was actually peddling a scam. Shortly after my campaign was launched, I got a private message from someone who claimed to be an ordinary backer of gaming projects. He gave me a list of advertising services which might be helpful for my campaign. I went to the one on his list which looked like the best fit for my project. It offered to post banner ads for my project on around 20 gaming web sites, and charged about $150 for 100,000 impressions. But as I followed up on how many clickthroughs those banner ads attracted, I saw that the number did not match how many people viewed my video on Kickstarter.
If you are contemplating Kickstarter campaigns for game projects in the near future: I will provide you with info about who I think was scamming me, if you want it. Send me an email.
So, what happens now?
Well, I have a plan "B". This plan involves creating the game anyway, but it will be smaller. It will have have less art, and it will take longer to produce. I will have to pay for everything out of pocket now.
I've spoken informally with a friend of mine about possibly collaborating with him on his game. Nothing is confirmed; but I do look forward to working with him.
I've another, smaller game that I invented as a class exercise which I would like to produce for the general public, like I did with "Iron Age". It might make a good party game.
And I will return my attention to writing. The fourth and final installment of the Fellwater novels has to be written. I'm also turning my attention to a new nonfiction project. Related to that, I'd also like to create some kind of interactive "Guide to the Fellwater Tales" web site, which will introduce readers to the world of the novels and some of its prominent landscapes and characters. Maybe I'll create a book trailer for YouTube, as well. I need to promote my novels better in general anyway. Like a lot of self-published writers, I'd like my work to be as well loved and commercially successful as the works of George RR Martin, or JK Rowling, or Neil Gaiman. If that happens, it is likely to be a long way off. So I should start walking more resolutely in that direction.
One of the personal realizations to emerge from this failure is the discovery that I care more about my books and novels than I do about my games. I like games, and I mean it when I say that games are good for us, but I think I like inventing games more than playing them. And I think I like writing stories more than writing games. I want to create my own computer RPG, and make it as big as Skyrim – but I'd need twenty million dollars for that. For the moment, my time and money is perhaps better spent working on my books and novels.
To those who supported my game: Thank you for believing in my work.
I invite everyone to go to my web site, where you can add your name to my email list. Then you can keep up to date with whatever I will do next, and get a copy of the game when it is ready to play.
Good games are games that tell interesting stories. Any kind of game can tell a story, from ancient classics like Chess, King's Table, and Go, to complex military simulations like Warhammer. Characters appear; problems beset them; solutions are sought and struggles are endured; and events in the world unfold. At the end of the story, the original problem might have been solved, in a glorious victory. Or it might remain unsolved, in ambiguous stalemate or tragic defeat. But in either case, a story is a character who changes because of a problem.
In games, of course, the characters are the players, and they change by growing stronger or weaker in the course of play. And the problems they face are the competing players. The story might be so short it could be told in a few sentences: "A leader raised an army, and went to the field of battle to face a terrible enemy. The armies fought each other with all their might. Great acts of heroism were seen, but also great acts of treachery and cunning, and many men on both sides died. Eventually the leader and his army won the day." That story could describe real-world battles like the Siege of Stalingrad, or mythological battles like the events of Homer's Illiad. But it could also describe the events of a session of Dungeons and Dragons, or a chess tournament, or the Super Bowl (although one would hope that no one really died). In every case, there's a story being told.
It's easy to see how a story can emerge from a game: the act of playing the game is basically the same as the act of telling the story. Less easy to see is how a game could be made that replicates the events of a story that has already been told. Such games, of course, are commonplace: video games based on popular films are the most obvious examples. There's also war simulation games, for tabletop and for computers, that replicate various historical battles. But games based on pre-existing stories present new challenges to the designers.
First of all, stories are made of words, sentences, descriptions, characters, plot arcs, events, feelings, and dramatic experiences, and the like. Games are made of those things too, but games are also made of numbers. Chess pieces, for instance, have a capture value, and a mathematically quantifiable movement function. Characters in an RPG, and units in a military simulation, have hit points, attack and defense values, movement rates, and other numerical attributes which define how they behave, and how much of a challenge they present to players. So the game designer who wants to turn a story into a game has to find a way to tell a story using numbers instead of using words alone.
Here's another challenge for the designers. A game based on a pre-existing story can offer players only one way to win the game: the players win by replicating the events of the story, and they lose by failing to replicate that story. Now, it's not hard to understand why such games are popular, even though the victory conditions are so specific. After reading the Harry Potter books, for instance, one might want to explore the wizarding world on her own, and become Harry or one of his friends, and achieve Harry's victory for herself. After reading some military history, you might want to know what it felt like to be General Eisenhower or Prime Minister Churchill, planning the Normandy landings. But the players and the game designers already know how the story ends – or how it "should" end. It ends in exactly the way the story says it ends. That is the very meaning of that kind of game. But the game designers still have to offer an unique experience to players. They have to offer interesting challenges, meaningful freedom to act and to strategize in the course of play, and real prospects for failure in order to make victory feel sweet. This creates a kind of paradox: the game has to offer that freedom and challenge to players, but at the same time it must preserve a pre-ordained conclusion.
I'm a novelist as well as a game designer. This summer, while finishing my third novel, it occurred to me that a tabletop RPG that I had been tinkering with for almost 20 years could be set in the same world as the novels. And that's how I discovered those two challenges. I'd have to find a way to tell my story using numbers as well as words. And I'd have to find a way to offer freedom and challenge to the players whilst preserving a specific narrative arc.
To the first challenge, I had to re-read my own books and look for anything that could be measured mathematically. I asked questions like: in what ways are some characters more powerful than others? Which characters are smarter? Which are better fighters? Which have more economic resources? And at first I was unhappy with this process. As a novelist, my characters are like people to me, and almost as real as my friends. And I didn't like putting them into little mathematical boxes. But I remembered the arguments of philosopher David Hume, who observed that things are made of their properties (their size, shape, colour, weight, etc.), and it's basically impossible to imagine an object with no properties. So although I didn't like "digitizing" my characters, I sucked it up, and made the game.
The best solution to the second challenge was to offer players a kind of third option. Instead of creating a game where the only way to win is to conform to the story, I offered ways to allow players to tell a different story. Let's call this third option "revision". Sid Meyer's "Civilization" series is an example of this: the game gives players a chance to "rewrite history", just as its advertising slogan says. RPG's based on films like Star Wars, or books like Tolkein's "Lord of the Rings", are also examples, when they allow players to create their own characters, and not just take over the role of Luke Skywalker or Frodo Baggins. Now this option may appear to defeat the purpose of creating a game based on a pre-existing story. The stories that players of my game will tell will be their stories, not mine. In the "revision" option, the game designers do not fix the narrative arc of the story that emerges from the game. Instead, the designers fix the "world" of the story. They fill in the background of history, and draw the maps, and lay out the social or political arrangements, define special terms or even whole languages, and in general they create the logical field in which all the player's movements and choices have meaning. Thus, for instance, players of the Lord of the Rings RPG are not re-enacting the books or the films. They're not re-telling the story that JRR Tolkien already told. But they are living in Tolkien's Middle Earth. Gamers often find that to be just as satisfying as re-enacting a story from history or fiction. In the same way, players of my game will tell their own stories, but live in "my" world. And as a game designer and a novelist, I find that solution very satisfying, too.
Want to see the game I was talking about in this article? Follow this link to the place where I'm Kickstarting it:
http://www.kickstarter.com/projects/1547922245/the-fellwater-tales
When I was in high school, I didn't read many comic books. But I read Neil Gaiman's "A Dream of a Thousand Cats" at the suggestion of one of my drama club friends. In the story, cats were once bigger and stronger than humans, but that all changed when enough humans dreamed for themselves a world in which they were the dominant race. The thesis is that things in the world are what they are because of nothing more than the beliefs and dreams of some critical mass of people. This wasn't just a thesis about social arrangements or cultural traditions: it was a thesis about hard physical reality. And my friend was convinced that thesis was not just a story, but a deep philosophical truth about everything. I can still remember the enthusiasm and earnestness in which this friend pushed the book in my hands.
So I read it. But I didn't like it. I could see that the story was artfully illustrated and elegantly written. And I was glad of a comic book which was not about men with big bulging muscles and ostentatious costumes. But the central thesis of the story, that reality is what it is because people just believe it to be that way, seemed wrong to me. It seemed like such a Dungeons And Dragons philosophy, and I wanted my philosophy to be made of sterner stuff. Moreover, I was becoming aware of certain social injustices that people talked about at the time, such as the estimated two-thirds of the entire human race who lived in near-total poverty, and the looming crisis of acid rain and other forms of anthropogenic pollution. It seemed to me that no rational person would deliberately dream of living in a world with such disasters in it. People generally dream of worlds that are better, not worse. And an idea isn't rendered more plausible just because it is told in an artistically beautiful way.
I suppose that attitude is part of why I eventually became a philosopher, instead of a dramatist, which is what I wanted to be at the time.
But not long after that, another associate pressed another Sandman book in my hand, this one featuring a character named Foxglove. I found myself identifying with her and her predicament, even though she was nothing like me. And I also enjoyed the strange adventure she was following, with its practical problems as well as its strange supernatural encounters. The goddess Ishtar made an appearance in there somewhere, as a nightclub dancer, although I think that might have been in a different Sandman story. I knew about this goddess already, since I was reading a lot of mythology all the time, but it was through the Sandman book that I first encountered the legend of the temple of Ishtar where women would go for their sexual initiations. A trip to the library revealed that Gaiman didn't make that up – it actually appears in the writings of Herodotus. Now I was interested. But on learning that this story was produced by the same man who wrote that deeply annoying story about the dreams of cats, I returned the book when I was done with it, and vowed to never read Gaiman again if I could help it.
Unbeknownst to me at the time, my own creative path was following lines that closely paralleled other themes in Gaiman's works. In my teens and early 20's I was interested in faerie lore, and hero tales, the possibility of otherworlds and magic, and the importance of preserving childhood wonder – all themes which also appear in a lot of Gaiman's novels. I wrote several stage plays and short stories about such themes. And I got active in the local pagan community for a while, because that's where I found people with the same interests. Still, when well-meaning friends urged me to read "American Gods", I politely turned them down. This is perhaps partly because whenever someone tells me Oh My God You Absolutely Must Read This Book, what I hear is Oh My God I Am Easily Impressed By Pretentious And Simpleminded Stuff. Also, I saw that it was written by Neil Bloody Gaiman, and remembered how annoyed I was by A Dream Of A Thousand Cats. In my mind I had dismissed Gaiman's fans as people who would rather live in his world than live in the real world.
And then I saw a movie called "Mirrormask". I saw that it was a Neil Bloody Gaiman script, but Rob Brydon was in it, so I decided that it was worth a try. It begins with a preposterously lovely premise: a young circus performer who wants to run away and join the normal people. And I was interested again. Our heroine is granted her wish to escape from her troubled reality, but she enters a fantastical otherworld which mirrors (hence the title) the psychodrama playing out in her heart and mind. It appeared to be a story about a girl's adventure in an otherworld, but it was really about a growing girl's relationship with her mother and father, and other authority figures, and all the angst and frustration that comes with growing up and assuming one's own adult powers. Good fantasy is fantasy which bends the rules of reality precisely to draw attention to reality. And that's what Mirrormask was doing. So I really enjoyed it. And it probably helped that I've a lifelong curiosity about masks, prompted by some mask drama projects that I did back in high school.
So, now I was much more open minded about Gaiman's stories. But Mirrormask was released in 2005, and by that time I was still working on my Ph.D, and wasn't reading fiction of any kind anymore. In 2006 my PhD was done, and I was a little bit tired of philosophy, and wanted to look at fiction again. I wrote my first novel that year: an urban fantasy about characters descended from the Celtic and Roman gods. I showed it to a few friends, who quickly observed that its premise was very similar to Gaiman's American Gods. So I looked up Gaiman's book, genuinely interested, and found that it still included the premise that annoyed me back in the Dream of a Thousand Cats: that certain things exist just because enough people believe in them. But what really annoyed me about American Gods was the way people gushed about it with a kind of fanatical glee. When people told me, Oh My God You Have To Read American Gods, what I heard was, Oh My God Your Book Will Totally Suck Because Neil Gaiman Had The Same Idea Six Years Ago And He Is Way Better Than You.
This would have been ignorable if it happened once or twice. But it was happening every bloody time I described my own novel to anyone. So I put it away. Six years went by before I felt comfortable and confident enough to publish it. And then I published a sequel. Eventually a reviewer on Amazon compared that second novel to American Gods; and when I read the review, I felt grateful, but also torn. The comparison was very favourable, and probably good for my book's publicity. But the comparison was still being made.
In 2012 I read the text of Gaiman's "Make Good Art" speech. This was the first nonfiction of his which I ever read, and I found it very inspirational, just as most everyone else did. By this time I was employed as a professor of philosophy at a regional college in western Quebec, so I started showing the video of the speech to my students. And I saw Stardust, another film written by Gaiman, and thoroughly enjoyed it. So, when I was invited to a book reading and signing event in Montreal with Gaiman himself, in the summer of 2013, I gladly accepted.
In fact, that is where I met Neil Gaiman himself, him face to face. "I'm a professor," I said to him, as he signed my copy of the Make Good Art speech. "And I show the video of this speech to my students. It's a message I want them to hear." He thanked me and shook my hand. And I was very happy.
But two things about that event stand out in my mind. One, of course, was the interesting combination of intensity and warmth in the man himself. The other, of course, was the fact that more than 700 crazy, nerdy, weird, and wonderful people had filled a Montreal theatre to hear a writer. And in that crowd were some of my best friends, and even my own younger brother Turlough.
I had seen people gather in huge numbers to meet movie stars and pop singers, but it simply did not occur to me that people would get so excited about a writer. I had seen television footage of JK Rowling's giganormous reading event in Toronto's Skydome, but I wasn't there personally for that; here, I was seeing the wonderful craziness with my own eyes. And I thought to myself: if his books can be this well loved, so can mine. But then my next thought was: it is likely that they never will be. My nonfiction is published with an excellent mid-sized British publisher, and in terms of commercial success they do about as well as nonfiction can be expected to do in a depressed economy. But my fiction is self-published. As a professor at a small regional college, I don't have the time to do the publicity work needed to promote my fiction. And I don't have the money to hire a professional publicity team to promote it for me. And I began to feel, again, that whatever I might write, and however wonderful it might be, nonetheless it will be written in Gaiman's shadow, and JK Rowling's shadow, and Philip Pullman's shadow, and the shadow of a thousand better-loved writers. I'm even writing in the shadow of Dan Brown! Meeting Gaiman in the flesh was very inspirational in the moment; but a few days later, it was curiously demoralizing.
Since then, I've seen all of Neverwhere, and read The Ocean at the End of the Lane, and enjoyed them, but I still feel like I'll never escape from under the shadow of world-famous writers like Gaiman. But I must continue writing. I published the third novel in my Fellwater series a few months after attending Gaiman's signing event. I'm planning a fourth in the series; I've also begun collecting notes and laying the foundations of my next nonfiction work. I'm doing this because, even though I'm writing in the shadow of ten thousand other writers, it can be part of a worthwhile life to do creative things even when there is no way to know what result will follow, and even when it's likely that no one will notice. For the results you should aim for in what you do are the ones which bring out the best in you in the course of striving for them; let the actual results be what they may. And this is very hard. I am one voice shouting to be heard, in a theatre full of people, all of whom are shouting to be heard, just like me. But this is also very necessary for the health and happiness one's own spirit – I use the word in the philosophical sense. Writing is what makes me feel as if I'm doing what I am here on Earth to do. That's why I've published thirteen books in the last ten years. And I plan to write many more.
Dear Mr. Gaiman, if you are reading this: thank you for writing such frustrating, annoying, beautiful stories.
And to all of Gaiman's fans who might be reading this: Please read my stuff too.
In my spiritual life, I think of myself as a philosopher first, and everything else second. The pursuit of knowledge is a deeply important value for me. In that respect, my spirituality can be called humanist, rather than theist. In fact, much to the chagrin of many friends, I've reported why I think the worship of the gods is not what matters. The discovery of this proposition was one of the most intellectually liberating moments in my life.
And yet I still have a shrine to Herself in my house. And I find myself very reluctant to part with it. Lately, I've been wondering why that is.
Perhaps I keep it as a show of commitment to my friends and community. Perhaps it's because I live alone, so the shrine to Herself offers me the feeling that I'm not alone – this feeling might be an illusion, but it seems a comforting one. Perhaps it's a small concession to Pascal's Wager: if She does exist, and I ignore her, she'd probably be quite pissed. Or, perhaps I keep it there out of mere nostalgia.
But here's a thought: perhaps I have accidentally discovered what might be called "minimalist religion". This might be comparable to "minimalist music" of composers like John Adams or Philip Glass, whose music strips away everything down to the point where, if anything else was taken away, it would no longer be music. Similarly, minimalist religion might be the level of religious practice such that, if anything else was taken away, it would no longer be religion.
In what does minimalist religion consist?
- Some image which represents or symbolizes a spiritual principle. The spiritual principle might be a god, but could also be something to do with one's own spiritual being, like the Atman, or something outside yourself but impersonal, like the Tao. So the object could be a statue of the god, or a geometric diagram representing the Tao, or a quotation from a sacred text written in elegant calligraphy, or even a building or a whole landscape to which one undertakes a pilgrimage (the Masjid al-Haram, perhaps? or the Hill of Tara?)
- A receptacle with which you address yourself to the spiritual principle, or in some way enact your relationship with it. (Notice that I do not say 'worship'.) This receptacle could be an offering bowl for libations, or a candle which can be lit, or a holder for a burning wick of incense, or a sound-maker of some kind (a small bell, a wind chime, etc.).
- A written or spoken statement which expresses the significance of the spiritual principle. It might be an expression of gratitude, a request for further blessings, a promise or an oath, a recitation from a sacred text, some poetry or storytelling, a formal or informal prayer, or even simply the uttering of a deity's name with some show of "faith" or sincerity.
Actually, even as I think of it, this third element might be disposable, too. For one could pour wine to Herself, or light a candle to the ancestors, or whatever, without saying anything. You can acknowledge your relationship to the divine with a searching gaze, and a listening ear. The act of laying out the offering, and of being present and attentive before the deity, becomes one's statement. But somewhere, somehow, a spoken or written expression has to be part of the event: for if you cannot put your beliefs into words, it is possible to doubt that you believe anything at all. Hence why all religions have a text (and modern paganism has many texts!).
I'm not the only, nor the first, person to consider whether there is a minimalist religion. Immanuel Kant, in typical Protestant zeal, thought that the core of a religion is its moral teachings, and so one could dispose of all the ritual elements and still be religious. Thus he would have kept the statement of "faith", but dropped the representational image and the offering-receptacle. He starts with a similar question as myself, but reaches a different conclusion!
Perhaps minimalist religion can go even more minimalist, by choosing any two of those three criteria and merging them into one. In Hinduism, for instance, the uttering of certain mantras serves as the statement of the significance of the spiritual principle, and at the same time the image of the spiritual principle itself. In Islam, the Kabbba is both the image representing one's relationship to God and at the same time the receptacle to which one enacts that relationship through prayer. Exactly which two you see as really one may depend on which of these two propositions you prefer: that religion is something you do because of what you experience and/or believe, or that religion is something you experience and/or believe because of what you do.
But these are only preliminary thoughts, and I may need to examine them more deeply over time. And so, friends, I invite your comments.
If anyone is curious, here is what my minimalist religion involves:
- A three-pronged candlestick to which I have affixed some oak leaves, holly leaves, raven feathers, and a triskele carved from African rosewood (the latter was a gift from my first lover, almost 20 years ago). These are the three candles which illuminate every darkness: I'm sure the druids reading this text will understand me.
- A copper cauldron, which is set before the candle stick, in which I sometimes pour a shot of wine or beer, although just as frequently I will go into the forest and make an offering of apples into a nearby lake. In that case, the lake serves as my 'representational object', and as my 'receptacle of communication', at the same time. The lake is important to me, for reasons I might describe some other day.
- For a statement, I often turn to the Charge of the Goddess, various proverbs and kennings from Celtic mythology, and this prayer which I composed many years ago:
"A spell to charm the life!
For a life well worth living,
Truths well worth knowing,
Love well worth feeling,
Success in my endeavours,
Protection from harm,
Guidance against harming others,
And may my name and story be spoken with pride by good people, after I die."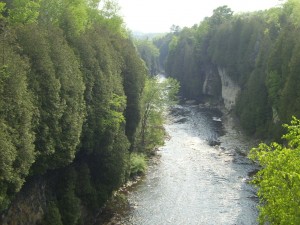 Photo: My first "cathedral", the Elora Gorge, in the village where I grew up. My own photo, circa 2003.
If you post a review of my novel, Clan Fianna, to its Amazon page between now and 15th November, I'll put your name in a draw for a $100 gift certificate at the online bookstore of your choice!
Christmas is coming, so you could use this gift certificate for your own gift-giving needs. Or, of course, you can also use it to catch up on your own wish list.

Furthermore, on 7th November, my next nonfiction title, "The Earth, The Gods, and The Soul", will be published. And if you post a review of that title to its Amazon page between now and 7th December, I'll put your name in the hat for another $100 gift certificate!
And There's More: if either of these books get 25 reviews or more, then I'll draw two names. And I'll draw three names if we get 50 reviews. And so on, every 25 reviews. So you don't reduce your chances of winning by spreading the word.
As always: a good review would be very welcome, but an honest review is all I truly ask for. In previous reviews on Amazon, my novels have been compared favourably to Neil Gaiman and George R.R. Martin, so I'm confident in the quality of my work. I hope you are, too.
And Finally: I'm offering a $10 gift certificate for the online bookstore of your choice to a randomly-selected person who SHARES (not just 'likes') or RETWEETS (not just 'favourites') this blog post, on Facebook and Twitter, between now and the end of October. Just be sure that your Share/Retweet links back to my Facebook page or my Twitter stream, so that I can track it, and include your name in the draw.
This is a promotion strategy which has worked successfully for me in the past, so I'm trying it again. Last year, for instance, I gave away a Kindle Fire HD. I've also given away a ticket to the festival of the contest winner's choice.
Why am I doing this? Because, like most independent writers, I have to do most of the promotion work myself. Now, I try to keep my book promo stuff non-annoying. But still, I need your help. Aside from buying your favourite writer's works, the most helpful way you can show support for a writer you like is by spreading the word about his or her books. And that means reviews, recommendations, reader's clubs, sharing and lending copies of books, and talking it up on social media. It's the same for poets, musicians, artists, and just about any creative person who doesn't have the backing of a big publisher, a big record label, a big art gallery.
(Actually my real goal is to persuade Netflix or HBO to take on my novels as a television series. And to persuade a big video game studio to make one of my tabletop games into an immersive first-person RPG. But I'd need several million fans for that. So I'll start with something manageable, and do something bigger next.)
I hope this new promo catches your interest, and I thank you for your support.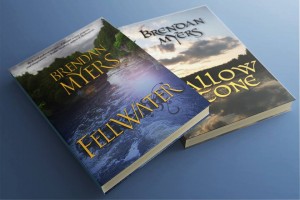 Since I started teaching at Heritage College, I've been encouraged to find new ways of getting students interested in learning philosophy and critical reasoning. So I invented four games that I regularly use in my classes: I published one of them last year, and I plan to publish a second eventually.
Not only that. Since 1996, I have been writing my own fantasy role-play game. I was inspired to do so when White Wolf discontinued their Changeling line, which I used to really enjoy (they have since re-imagined and re-started it). Feeling disenfranchised and left out, I decided to invent my own game, to replace it. That was almost twenty years ago. And since then, I re-open it every three or four months, write or edit a page or two, and then close it again for another few months.
The result of having done that for almost twenty years is that I now have an almost-complete game, 286 pages long, the majority of which is character-development and world-building information.
This summer, while writing Clan Fianna, it occurred to me that with a few small intelligent changes, the game could be presented as a spinoff product of my Fellwater series of novels. People who read and enjoyed the novels could use the game to create their own characters in the Hidden World and thus play in my back yard. I could also use the game to reveal more of that Hidden World. And those who enjoy role-play gaming could check out the novels to see what life is like for characters in my world.
As another feature that might interest gamers: as far as I know, my game would be the first and only RPG designed by a professional philosopher. And while the game still represents philosophical interests I had eighteen years ago, it also has lots of stuff in it from my more recent philosophical ruminations. It has become, in effect, a fantasy RPG which players may use to explore philosophical questions, and to train themselves to handle philosophical problems. And also, naturally, to have lots of fun!
You see, the interesting thing about having two graduate degrees in philosophy is that I understand logic, algorithms, conceptual analysis, political theory and strategy, and the principles of mathematical game theory – perfect for designing the rules and numbers aspect of an RPG, as well as the larger cosmology and world view and conflicts in which characters find themselves. For example, players in my game must choose a "Source", which their characters draw from and which contributes a large part of who the characters are. It may look at first like a D&D-style alignment system. But they are not just four stations on a spectrum between good and evil. Rather, they are four different world views: really four different competing models of human nature, good and evil, justice and injustice, and what lies between them.
At the same time, from my BA in Drama, I also understand storytelling, narrative arcs, dramatic tension, imagination, performance, and free creative play – perfect for world building, character design, and the like. My fiction writing is inspired by the playwriting and directing work I did as a BA drama student: I even apprenticed for a short while under a playwright who won the Governor General's award for literature twice. So I know about storytelling. On top of that, I've also undertaken a lifelong study of mythology and folklore – I've even published several books on the topic – which is helpful for all those things I already mentioned, and more.
To sum it all up: I've got the text of a fantasy RPG, which is perhaps 85% complete, and I've got a network of wonderful people who could help me illustrate, edit, design, promote, and play it. But I wouldn't ask any of these people to work for me for free. Hence, I'm thinking of another fundraising campaign.
Well, you may ask, what is the game "about"? It's about this:
What if the ancient gods and heroes of mythology were human beings like ourselves: but just a little stronger, more knowledgeable, quicker, more beautiful, and a little more full of energy, than the rest of us? What if the nymphs and satyrs of Greek imagination, the dwarves and giants of the north, the faeries of the Celtic lands, and the spirits of every people and nation, were actually just people like you and me—except that they could make some of their dreams come true? What if time and history exaggerated and expanded the stories of their lives, transforming them into myth and legend? What if even the gods themselves were fallible beings, having most of the same weaknesses we all have, the same hopes and fears, the same aspirations for power or happiness, the same unfulfilled dreams and unrequited loves—but they were elevated above the rest of humanity by being just a little bit more in touch with the mysteries of the universe than the rest of us?

What if you were one of them?
That's the opening paragraph of the game, of course. I wrote that back in 1996. The world of my Fellwater Tales novels is very similar.
So here is the big question to which I'd like all of you to respond. If I were to launch a fundraising campaign to pay for the production of this game, would you support it? Might there be interest out there in an RPG designed by a professional philosopher (me) and crafted by multiple contributors into a work of art in its own right?
Please post your comments here and let me know.
You might have heard of something called Godwin's Law: "As an online discussion grows longer, the probability of a comparison involving Nazis or Hitler approaches 1."
I would like to suggest "Myers' First Amendment to Godwin's Law", as follows: If the online discussion includes at least one conservative Christian, then as it grows longer, the probability that the topic will divert toward abortion or gay marriage approaches 1.
I would also like to suggest "Myers' Second Amendment to Godwin's Law", as follows: If the online discussion includes at least one American, then as it grows longer, the probability that the topic will divert toward the right to bear arms approaches 1.

Because, whether the (American) speaker is in favour of gun control, or against it, or somewhere in between, the topic just keeps cropping up again and again, in the weirdest of places.
It's the same with conservative Christians. it seems as if they almost always somehow end up talking about abortion, one way or another. Or gay people. It's so habitual now that the Pope said that Christians should knock it off, and start talking about compassion, and poverty relief, or something else at least.
And finally, here's "Myers' Third Amendment to Godwin's Law": If the online discussion includes at least one Canadian, then as it grows longer, the probability that the topic will divert toward the weather approaches 1.
And don't ask me what the Fourth Amendment might be. But it has something to do with what the Irish talk about. Especially on Arthur's Day. (Oh ye gods.)
Discuss! (But not for too long, because we'll end up talking about gun control, or abortion, or…)
I am a professor of Philosophy and Humanities at Heritage College, which is a regional anglophone college in Quebec's unique CEGEP system of higher education. As such, I am also a provincial public servant, and the proposed Charter of Quebec Values will affect me personally, as well as all of my colleagues and students. I am also the author of twelve philosophical and/or pagan books, and (to my knowledge) I am the only openly-pagan philosophy professor in the world.
There are a number of things about the proposed Charter of Quebec Values which are interesting, but some of those things are at the same time troubling. Among both my colleagues at work, and also my friends in the Quebec pagan community, there are mixed views: some support it and some are against it, either in whole or in part.
Most everyone I know is in favour of the separation of church and state in Canada. For that matter, so am I. Although Canada does not have such a separation guaranteed in our constitution (we have, instead, a history of political traditions and a mountain of judicial precedent), Quebec has its own charter of human rights and freedoms, its own civil code (no other Canadian province has one), and other similar legal statements defining Quebecois social values, which provide that separation quite robustly. The three most important Quebec values embodied in those statements are the equality of men and women, the separation of church and state, and the primacy of the French language.
In the 60′s and 70′s, Quebec underwent a radical secularization process in which major social services which had previously been provided by the (unelected, unaccountable) Catholic Church, services like housing and education and health care, were taken over by the provincial government. This process is now known as the Quiet Revolution, and no other Canadian province or American State has done anything similar.
In that sense, Premier Pauline Marois' Charter of Quebec Values doesn't do much that hasn't already been done. However: Marois' proposed Charter will require that public servants (like me) do not display religious symbols openly while functioning as public servants. It may also require that members of the public cannot wear prominent religious symbols while receiving provincial government services. Apparently, we can wear small symbols, and there's a specific list of which ones we can wear, and how small they have to be.
Were that all, it would be fine by me. But it's not all. For instance, for a charter that supposedly is about secularism, there's rather a lot of exceptions for "traditional Quebec values". And most of those exceptions, suspiciously, involve Roman Catholic symbols, including the huge Catholic crucifix which hangs in the Quebec national assembly chamber, and the giant illuminated cross that stands at the summit of the mountain in Montreal. This strikes me as a little bit hypocritical.
It's the exceptions that we should think about here. They indicate what the proposed Charter is possibly really about. Given that the majority of the exceptions are about Catholic symbols, I suspect that the Charter is a disguised attempt to protect Roman Catholic symbolism and culture in Quebec.
I suspect it's also a disguised attempt to attack Muslim women. For although Marois said that the Charter would unite Quebecers, so far the real practical result has been to divide them, between those who are happy with Quebec's mostly-healthy multiculturalism as it is, and those who would rather see a more homogeneous, secular, but also informally Catholic Quebec. Since the Charter was floated by the Parti Quebecois, Burka-wearing Muslim women have had to endure more harassment and violence in public places than ever before.
The Charter is being informally proposed as a way to liberate Muslim women from the oppression of the burka. But I'm not fully convinced that all Muslim women who wear it are oppressed. One needs to ask: if a Muslim woman chooses to wear the burka, is she really being oppressed by her husband or father? Maybe not. But almost no one is taking much time to ask these women why they wear the burka, or why they don't, as the case may be. Indeed, I suspect that there is a lot of latent xenophobia quietly presupposed in the Charter. Perhaps the Charter's real purpose is to liberate white, secular and/or informally Catholic Quebecers from having a Burka-wearing Muslim woman as their next-door neighbours.
Personally, I'd rather see a complete ban on religious symbols, with no exceptions. But even a complete ban on wearing such symbols has its problems. Many of my colleagues are religious, but very few of them wear their religious symbols openly anyway. I'm religious: I'm a spiritually druidic humanist. But I keep my triskele under my shirt. Because my religion is nobody's business but my own. So, the charter will stop us from doing something that we're not doing anyway – a clear absurdity.
But while that's true of most of my colleagues, it isn't true of all of them. Some of my colleagues do wear highly visible religious symbols: they have to, because their religion requires it. Think of it this way: no one would seriously demand that a Catholic man should be Catholic at home and a secular atheist while at work. But Catholics don't have to wear their crosses openly if they don't want to. He can be a Catholic man at all times, and no one else need be the wiser. But the same cannot be said of those whose religion requires them to wear a turban, or a Jewish skullcap, or a Bindi mark on their brows. To such people, to give up those symbols is the same as to give up part of their religion. I worry that some of my very talented and well-liked colleagues might lose their jobs if they refuse to abstain from their symbols. This would be a great loss to my college; it would also be a great injustice, as these people might lose their jobs for reasons that have nothing to do with their ability to do their jobs.
But all this might be smoke in the wind anyway. Canada has a national Charter of Rights and Freedoms, which is part of our Constitution, and which theoretically trumps any provincial legislation. Our constitution guarantees to every Canadian the freedom of religion. If Marois' proposed Charter of Quebec Values becomes law, it will certainly conflict with our national Charter. Federal politicians have already indicated their willingness to fight the charter in the courts. Moreover, Marois has only a minority government right now, which means that if enough opposition parties reject the proposed charter, it won't fly anyway.
And finally, I'm certainly convinced that Quebec has more serious problems to deal with, such as its ancient infrastructure. There are bridges collapsing all around Montreal; there are highways with potholes big enough to swallow whole cars. I suspect that the Charter is intended to disguise the fact that the PQ has no freaking clue about how to handle real problems that really matter – problems like unemployment, homelessness, underfunded schools and hospitals, Aboriginal land claims, decaying infrastructure, and the like. They only understand the politics of identity. They don't understand anything else.
When you vote PQ, you may or may not get the socialist paradise they promise, but you always get the identity politics.