While researching a question about human nature and metaphysics (you know, as a young man about town is apt to do on a Saturday night), I began to wonder where the sacred lives.
I define the sacred as "that which acts as your partner in the search for the highest and deepest things: the real, the true, the good, and the beautiful." (Circles of Meaning, pg. 27). And when I began to wonder where the sacred 'lives', I mean, which of our ways of being in the world is the "home" of the sacred?
This is not as weird a question as it sounds. Or as it feels. Or as it looks. Or 'smells'. I shall explain; although my thoughts here are still very preliminary.
The question occurred to me when I was reading the Upanisads, and I noticed that the names of the gods ended in vowels or soft consonants. And I began to wonder if this was a constant in other bodies of mythology in other languages, too. So I took up my copy of Alexander Murray's "Who's Who In Mythology", which is a handy reference because it lists the gods of Greece, Germanic Europe, India, and Egypt, and prints their names in bold so they're easy to find. Then I just counted the names of the gods whenever they appeared on the page, and counted how many ended in vowels or soft consonants, and how many ended in hard consonants.
The discovery: almost all the names of the gods end in vowels and soft consonants. Only one that I found ended in a hard consonant, and that was the Scandanavian goddess Frigg.
This observation might appear quite trivial. And admittedly, I flipped through my book here for only twenty minutes so I might have missed something. But to me it seemed very significant. Because vowels and soft consonants are easier to sing. You can draw out the length of the note, you can raise or lower the pitch without entering a new syllable, and you can harmonize with other similar sounds. Hard consonants are like staccato beats: you can use them to establish a rhythm. They are the drumbeats of spoken words. But you can't draw them out over time or pitch. Try singing a word that ends in a hard consonant. It ends abruptly, immediately, deliberately. Now try singing a word that ends in a vowel. The word ends when you are ready; you can hold the note for as long as you still have breath; you can let the note trail away in its own good time; it ends easily and gently, when you are done with it. Hard consonants end when they are done with you.
Listen to these exemplary pieces of vocal music: Adiemus by Karl Jenkins, and The Host of the Seraphim by Dead Can Dance, and Sæglópur by Sigur Ros. All of these pieces are sung in nonsense phonemes: there are no real words spoken here. They all, in various ways, share with each other the ability to invoke a hard-to-define experience of the sacred: a kind of longing, wishing, loving, despairing, and invoking quality. And the sounds are almost all vowels! (While I'm at it, listen to Meo Blodnasir by Sigur Ros, which creates this feeling using only one phoneme, the long-O sound.)
By contrast, listen to the kind of words we use (in English, anyway) to curse and to insult each other: they are quick, staccato words, often of one syllable, and usually ending in hard phonemes: words like shit, fuck, piss, fart, damn, drat, jerk, asshole, dickhead, knave, cur, villain, wicked, witch (sorry), wastrel, bitch, bastard. With their hard phonemes, these are words to be shouted, spat, and flung like weapons. Hard sounds are not the sounds we use to address friends and loved ones. They are the sounds we use to despise and to hate.
It's in long sounds and soft sounds that we laugh, we cry, we hope, we plead, we greet our friends, we show love, we say goodbye, we grieve the dead, and we sing. So it is perhaps natural and right that it's with long sounds and soft sounds that we address the gods by name.
And in English anyway, if not in other languages, the basic words which separate the world-of-things from the world-of-beings also follow this pattern: they are the words "it" and "you". The word "it", ending in a hard consonant, is used to speak of objects and things we might use and own and discard; the word "you", ending in a long vowel, is used to speak to a being who can respond in kind, a being with whom we might have a human relationship. Again, it's in the long and soft sounds, the sounds that can make music, which we use to invite the relationship.
One might say that the sacred dwells in all our senses: the sight (as when we make paintings, mandalas, symbols, and diagrams); the scent and the taste (as when we make offerings or share sacraments); the touch (as when we dance); the mind (as when we read and write). And I am sure this is true. But I'm beginning to think that sound has a certain special privilege here. It's possible that the sacred in exemplary images like this portrait of the Buddha, this mandala of Kali or this image of The Great Queen, would be lost on those who don't know the language of visual symbols presupposed here. But no one, or almost no one, could mistake the overwhelming spiritual power of a piece of "secular" music like Beethoven's Ode to Joy – especially when the choir sings "For God!" three times, loud enough for God to hear. (It's at 3:18, in case you don't want to wait.)
Sound lives in its own moment in time; one has to be there to hear it. Sound penetrates surfaces in a way that light does not: think of how we rap upon walls to find where the beams are, or how we use ultrasonic devices to find underground bedrock, or to "look" at the silhouette of an unborn child in her mother's womb. Sound has a physical presence, as well as a sensory presence: sound can create vibrations, and those vibrations can resonate with harmony or with dissonance. A loud noise is something you can physically feel. And sound can translate into light, as when we reveal the frequency of sound waves in a visual pattern.
My preliminary conclusion: the sacred lives in the hearing. The names of the gods are to be spoken aloud, sung aloud, to come alive in your relationship.
In the last day or so, I've been seeing a lot of this op/ed piece on The Huffington Post: If JK Rowling Cares About Writing, She Should Stop Doing It, by Lynn Shepherd.
A brief summary of Shepherd's thesis might go like this: the publicity machine that supports big-name writers makes it harder for small time, independent writers to get the word out about their own books.
Here's a noteworthy quote:
It wasn't just that the hype was drearily excessive, or that (by all accounts) the novel [The Casual Vacancy] was no masterpiece and yet sold by the hundredweight, it was the way it crowded out everything else, however good, however worthwhile. That book sucked the oxygen from the entire publishing and reading atmosphere. And I chose that analogy quite deliberately, because I think that sort of monopoly can make it next to impossible for anything else to survive, let alone thrive. Publishing a book is hard enough at the best of times, especially in an industry already far too fixated with Big Names and Sure Things, but what can an ordinary author do, up against such a Golgomath?
Well, the first thing that an ordinary writer can do is suck it up, and accept that the publishing industry is not, has never been, and probably will never be, a level playing field. The market is cutthroat, unforgiving, and very crowded, and probably always has been and always will be. And that is part of what you sign up for as a writer. And yes, it's unfair. It's unfair in deeper ways that Shepherd didn't address: for instance, it's unfair that white male writers get more attention than almost everybody else, for reasons that have nothing to do with the quality of their work, good or bad. (This is why JK Rowling used her initials, instead of her full name, when she published her first Harry Potter book.) And yes, there probably should be an easier way for indie writers, and for that matter all marginalized writers, to get the word about about their books to large audiences. But I think this is not a good reason to punish or complain about writers who are successful. Remember, it wasn't so long ago that JK Rowling was a single mom living in a council flat, receiving social assistance, and papering her walls with her rejection letters.
To counter the unfairness in the market that Shepherd is addressing, it might be better to address the books themselves, for instance by writing negative reviews of bad books and positive reviews of good books. That might help direct the attention of readers toward better books, whether those books are popular or not, which is the whole point of the exercise. Readers are part of the marketing team and writers have to persuade them to help promote their books. Asking a successful writer to stop writing seems to me unhelpful.
This leads me to the second thing a writer can do, which is write her book anyway, and worry about the publicity later. As I have said before, writers should write because they care about writing, and because they care about what they're writing about, and because they care about artistic and intellectual excellence more than they care about material success.
As an indie writer myself, and thus the sort of person who "should" agree with Shepherd, I find her argument a little silly. If my book sucks, then getting rid of JK Rowling won't make my book better. And if my book is awesome, then getting rid of JK Rowling won't (by itself) put my book on the NYT Bestseller List.
I have this dream in which my books become hugely successful because of their quality alone. But this is, after all, only a dream. For one thing, my books might suck and I might not know it. And moreover, there is simply no correlation between the success of any given book, and its quality, or how much publicity it receives, or how crowded or not crowded the market it.
Sure, I'd like to be as famous and successful as JK Rowling. But there is no way to predict or ensure that will happen. And at any rate, that kind of success has almost nothing to do with the quality of a writer's work, good or bad — a point that Shepherd might find agreeable. What I can do right now, as a not-very-famous indie writer, is write the best book that I can write, and then write another one, and another one, and another one, for as long as I can. And yes, I'll also do as much promotional work as is in my power to do. But the writing always comes first. In fact the writing comes before everything. And if I become JK Rowling, the writing will still come first.
I think Rowling is a great writer, and I'm glad she has done so well. I read all the Harry Potter books as an adult, and I found many of them intriguingly philosophical. I actually liked The Casual Vacancy (though I admit haven't finished it yet). And sure, her success might make it harder for writers like me to reach the same level of success. But that has nothing to do with her personally, and it's certainly not a reason to tell her to stop writing. In fact, I'm going to write my next book while imagining that she will read it. It's likely that she never will. But it's sure to make me want to write something better than I've done before. And that, my friends, can be its own reward.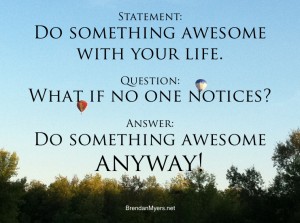 This afternoon, I wrote the following letter to six of my Members of Parliament:
—–
Good day,
My name is Dr. Brendan Myers. I am a professor of Philosophy at CEGEP Heritage College, in Gatineau, Quebec. I am also the author of 14 books, mostly in nonfiction.
Yesterday, Canada celebrated as our national women's hockey team, and our national women's curling team, won gold medals at the Winter Olympics in Sochi, Russia. Our hockey team has now won Olympic gold four times in a row. And at the time I write this letter, more of Canada's gold medals at the Games in Sochi have been won by women, or women's teams, than have been won by men.
I believe that the occasion should be marked by declaring that the 20th of February, the day of our Olympic victories in women's hockey and curling, should be officially declared National Women's Sports Day.
Here are some reasons why I think this declaration should be made.
Men's sports already receive an overwhelmingly large share of money, resources, media attention, and prestige in Canadian society. Events like the Stanley Cup Playoffs, and the Grey Cup Game, are effectively unofficial "Men's Sports Days". The same can be said of high profile sporting events in other nations which Canadians enjoy watching: the MLB World Series, the Super Bowl, the Premiership and Champion's League, the FIFA World Cup. At these events, there are no women on the field, except sometimes as cheerleaders. These occasions are, admittedly, not statutory government-declared holidays. But they are celebrations of men's athletics nonetheless. There is no equivalent celebration for women's athletics; not with the same level of prestige, media attention, and economic expenditure. My proposal is a small attempt to help redress this strong inequality.
Another argument might go like this. A National Women's Sports Day might be a good way to promote Canadian athletes like Hayley Wickenheiser as positive role models for girls and young women. Some of the best known role models for girls and young women are fashion models with unhealthy physiques, and pop stars with dysfunctional lifestyles. A National Women's Sports Day might be a good way to draw more public attention to better role models: our nation's highest-performing athletes. The day can also be integrated into existing efforts to promote public health, such as ParticipAction.
No intelligent person would deny the importance of promoting women's sports. But some intelligent people might deny the need for a government-declared special day for women's sports. A critic might claim that it's unfair because there is no equivalent National Men's Sports Day (although there are several unofficial days, as noted above). Or, a critic might claim that a National Women's Sports Day is patronizing to women. These arguments, however, could be used against Gay Pride Day, or Black History Month, or National Aboriginal Day, or any other government-endorsed occasion which both celebrates, and also draws attention to the injustice of ignoring, the accomplishments of people in traditionally marginalized groups. (Remember, "Women" are one of the four groups which are recognized in government hiring practices for employment equity and statistical purposes, and this does not discriminate against qualified men.) Finally, a critic might claim that support for women's sports should grow more naturally and organically, as a movement in culture which the government should neither encourage nor obstruct. In reply, we might look again at comparable events for other traditionally marginalized groups, which governments at various levels (municipal, provincial, federal) do support in various ways, even if only with lip service. Rainbow flags on public buildings are examples of this. We can also reply: a group of people in a democracy, demanding that the government should do or not do something, is exactly what a natural and organic change in a culture looks like.
Finally, let it be added that the declaration of a National Women's Sports Day would cost the government very little, perhaps almost nothing, in terms of money, staff time, or other resources. Once it is established and publicised, then the Canadian people can do with it what they will. I have confidence they will use it to do great things.
I hope this letter finds you in good health and good cheer, and I look forward to your response.
Sincerely,
Brendan Myers
CC:
Nycole Turmel, MP for Hull-Aylmer (my current residence)
Michael Chong, MP for Wellington-Halton Hills (my hometown)
Stephen Harper, MP for Calgary West, Leader of the CPC, and Prime Minister of Canada
Thomas Mulcair, MP for Outremont, Leader of the NDP, and Official Opposition Leader
Justin Trudeau, MP for Papineau, Leader of the LPC
Elizabeth May, MP for Saanich-Gulf Islands, Leader of the Green Party.
——
Please feel free to copy the text of this email and send it to your own MP. Let's make this happen!
Also, please click here to "like" National Women's Sports Day on Facebook.
There are lots of ways in which the success of education cannot, and should not, be measured in a student's final grade. But for various reasons, schools and colleges and the political establishments that fund them want to see a definite mathematically-quantifiable result, at the end of every course. There are only so many ways to do this: tests, quizzes, essays, and the like. And a lot of students feel alienated or even hurt by these methods: they might encourage rote-memorization instead of comprehension, or they might reward conformity instead of autonomous critical reasoning. So I have been working on ways to make my evaluations more interesting, useful, and fun for students, while at the same time satisfying the institutional requirements for a quantifiable grade at the end of the day. And one of the ways I do this is by playing games. Here's an example.
This term, I am teaching business ethics; I have two sections of the class, with around 65 students in total. Last week, I presented them with a market capitalism simulation game that I invented. In brief, the game works like this. The students form five teams. Each team is a "company" that makes a certain product, and their productivity is determined by dice throws. Each team needs the products made by the other teams to assemble a complete finished product, which is then "sold" to me. I play the role of the end-product consumer, and I set my level of consumer demand with a dice throw. Thus players have to negotiate and trade with other teams: this much represents the co-operative aspect of capitalism, the relationship between a manufacturing company and its various suppliers. But I've also stipulated that whichever team makes the most money by the end of the two hours "wins" (and I toss in a small incentive for winning). So there is also a competitive aspect.
This isn't a perfect simulation of capitalism. But that's okay because it's not supposed to be. The game isn't really about capitalism. It's about ethics: specifically, it's about trust, fair play, and co-operation, and also cheating, fraud, and deception. What the students don't know, because I don't tell them until after the fourth of fifth round, is that I've been keeping a record of every team's original productivity. Four or five rounds into the game, I audit their balance books. The last time I ran this game in class, I discovered that there were more "units" of three (out of five) commodities in circulation than there should have been, compared to my record. A fourth team's productivity was fully accounted for, and a fifth team saw some of its productivity disappear, probably due to an accounting error. It's also possible that the excess productivity appeared through an accounting error, but since that kind of error benefits the team that it affects, it's more likely that someone somewhere exploited another player's trust for private gain – possibly without the other team-mates knowledge. Certainly, that's what it would look like to other players. At this point, I announce that as the end consumer, I have read the auditor's report and I decide that whether the discrepancy is from errors or from fraud, nonetheless I have lost consumer confidence, and I reduce my rate of demand. Everyone is affected. Just as happens in real life.
Now there are two ways a teacher could use a game like this as an evaluation tool. One is by giving points to students who win. I don't like doing this most of the time, because students who "lose" may still be learning something, and their learning experience has to be acknowledged and rewarded somehow. What I have been doing lately is this: we play the game in class, and then students write a report about what happened when they played it. What strategies for winning were successful? How did players negotiate with their team-mates for a strategy they wanted to try, and how did they negotiate with players on rival teams? Was any cheating detected, and how did it affect the negotiations, and the results? Could any of the moral and/or economic theories discussed in previous lectures explain what happened?
My pedagogical games are not always successful. I sometimes wrestle with student apathy and deliberate resistance: some students who don't see the point of the game (or who are on the cusp of losing) would rather disrupt the game for everyone, rather than take the time to think it through. But most of the time, using games as evaluation tools is very successful. There is laughter, and imagination, and experimentation. People sometimes thank me on their way out of the room at the end of a session. Think about this: no normal student enjoys a test, and thanks the prof for it. But when I turn the evaluation into a game, they sometimes do. My college is very open minded to experimental evaluation methods: we recently built an extension on our building to house a special "Active Learning" classroom.
Games are good for us. Games help us develop all kinds of skills, from hand-eye coordination to strategic planning. They help us build empathy with team-mates, and they can encourage the kind of competition that leads to excellence. Games can even be used to explain social justice issues, or to assist people recovering from illnesses. (I tip my hat to developers like Jane McGonigal and Brenda Brathwaite here.) And, of course, games are fun! In fact, one of my other pedagogical games, a game designed to simulate party-political competition, proved so popular with my students that they encouraged me to publish it. And that seems like success to me.
Please contact me privately if you are interested in a complete description of the rules of the game described in this blog post.
When my father turned 40 years old, I was 11. I remember the occasion quite vividly. We prepared a secret birthday party for him: we rented the local school gymnasium, invited about a hundred friends of his including some he had not seen since high school, hired a caterer and a DJ, and I gave my very first public speech before an audience of strangers. I told the story of the funny things he used to do to trick-or-treaters at Halowe'en. After the speeches, there was a dance, and a DJ. I didn't want to dance, and there was no one I wanted to dance with anyway, so I danced with a balloon.
This year, on July 4th, it's my 'turn' to turn 40. It feels like a milestone of a sort. A number of my friends had special events for their 40th, and a few friends of mine have already said that I should do something special for mine. Normally I celebrate my birthday by inviting a few people to join me in a local pub. Nothing bigger than that. But this time, I think I'd like to do something special.
I'd like to rent a hall somewhere. Ideally, I would rent the fireplace lounge in the Elora Mill Inn, but I think it might not be finished renovations by then. Alternatively I might rent a special-events room in a pub or small hotel; I might even host it at my parent's house in Elora, which is certainly big enough, and we've had big parties and house concerts there in the past. I'd also like to book a band, and I've already spoken to Heather & Ben about it, and I want Frosty to perform too. And I'd like there to be a big feast, maybe with someone's home-made beer and wine. I've already set aside a few thousand dollars for the purpose – money I probably should be saving for home-ownership or for retirement, but what the hell.
I'd love it if some of my far-flung friends from Ireland, UK, America, and distant Canadian provinces east and west, could attend. People often travel that far to attend weddings; my birthday is of course not a wedding, but a 40th birthday seems to me like an equally significant milestone. So, this is why I'm sending out this "invitation" of sorts six months in advance.
Details will be posted to my FB and Twitter as they are determined. But in the meanwhile I am open to suggestions about venues in southwestern Ontario (because that's where I grew up, and where the majority of my friends and family still live), and catering, and entertainment. And, of course, let me know if you would like to attend!
A few people wrote to me today just now to ask if an internet "meme" I made this evening (see below) was about something else, something going on in my life perhaps.
Well, it's this: despite blitzing my Facebook and Twitter followers (over 2000 of them in total) with the news that I published a new book two weeks ago, a lot of people still hadn't heard about it.
And that's not for lack of effort on my part. I've been doing as much promotion work as my time and resources allows (although, admittedly, it isn't much; I do most of my promo work in the spring and summer, when I don't have as many responsibilities at the college).
It's also because Facebook deliberately suppresses things like my book announcements. When I post something on Facebook, only 16% of my followers will actually see it. For me to reach 100% of my followers (or others beyond), I'd have to pay them. This is called "The Promoted Posts policy".
I get that Facebook is a business, not a charity. And so is Twitter. Really, I do. But I don't have the kind of advertising budget that, say a big international corporation has. I'm just one person with a lower-middle-class income and not much spare time.
With the end of "net neutrality", this kind of problem will not just be a Facebook problem. It will be an everybody and everything problem. The end of net neutrality means that that big internet companies will be allowed to suppress everybody's internet content, unless they pay to have their web site prioritized (which other big companies can do, but independent individuals like myself cannot do). This will make it even harder for me to get the word out about my work, even on my own web site.
That's how this sort of thing affects me personally. In fact I can measure how it affects me very precisely, by comparing the reach of my book promotion efforts five years ago, to the reach of those same efforts today. It's a lot less.
And you can bet if affects every independent artist you know, as well. I'm somewhat lucky in that my ability to write is "protected" by the fact that I've a steady day job. But there's quite a lot of artists out there who are working as artists full-time, and they make art (music, clothes, books, poetry, theatre, etc.) full time, for a living. They are going to be hurt by the end of net neutrality a lot worse than I am.
Here's what you can do about it.
First of all, get active. Phone up your MP or Congressman, or a professional lobbyist. Write to local newspapers or magazines or any public organ where people will read what you write. Encourage others around you to do the same.
For those who, like me, are independent artists worried about how the new economics of the internet will make it harder for them to market themselves: do all of the above, and also keep doing awesome things anyway. Remember your Aristotle: excellence is its own reward.
For those interested in my books: sign up to my mailing list. (If that link doesn't work, try the form on the bottom of my front page, here.) You'll hear directly from me when I have a new project released or soon to be released. Sometimes you'll hear about projects by friends of mine, too. And the suppression effect of the end of net neutrality won't affect it. (At least, I hope not.)
And for those who are not themselves independent artists, please spread the word as often as you can about the work done by the independent artists who you admire. Talk about their stuff with your friends. Write reviews of their stuff on relevant web sites (Amazon, Goodreads, BandCamp, DeviantArt, etc.) Go to their concerts and gallery shows and readings, and bring all your friends with you. That sort of thing, more than anything else, is the kind of practical help that those independent artists actually need.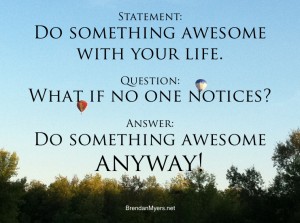 Also, feel free to use this image of mine here to give the artists in your life some encouragement. They need that, too.
If I had to choose between reading a long, complex, and intricately detailed story, and reading a complete story, I would prefer to read the complete story.
Some stories (in novels, television, film, etc.) are pushed to continue as long as they remain commercially viable, even if they are pushed past the point where they are still good stories. I needn't mention any examples; I'm sure you can think of a few.
In that respect, one of the things I love about the Harry Potter series is that, after seven novels, eight movies, and a few spinoff pieces (like the Tales of Beedle the Bard), it is a complete story. It's finished. There are no more Harry Potter novels forthcoming. And that's fine. I know that JK Rowling has dropped hints that she might revisit the world, such as by writing prequels, but they will be different enough to be different stories. Similarly, one of the things I love about Terry Pratchett's "Diskworld" novels is that, although they all take place in the same high fantasy world, and often have recurring characters, they are not necessarily in a series. Each novel is a self contained complete story, and one can dive into the world anywhere and enjoy a complete story.
So, here is what's going to happen to my own fantasy drama series, "The Fellwater Tales."
Three complete novels are already published, in print, Kindle, and Kobo editions. They are a series: each builds on the events of the previous novel (except the first, obviously). But each provides the reader with enough information about previous events so that one can dive into any of them and still understand and enjoy what's going on.
The fourth installment of the series will be a collection of "spinoff" novellas and short stories set in the world of the Fellwater Tales but featuring different characters and events. Some of these stories will reveal events that took place in the "background", or "offstage", of the main series, or events in the lives of various minor characters. And some of the stories will simply explore more of the world. I'm taking my inspiration from Pratchett here, as well as from Ray Bradbury's "The Martian Chronicles": the stories of the fourth book will take place in the same world but otherwise they will be only tangentially related to each other. Anyone can enjoy them, whether they've read the rest of the series or not.
And by the way: the first of these "spinoff" stories is now available on its own: "Jillian Brighton and the Wonderful Cosmographic Telescope." Everyone should go read it.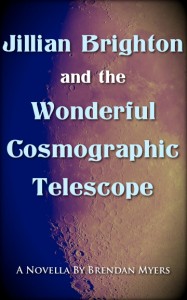 Then there will be a fifth installment, which will complete the series. As readers of Clan Fianna know, our heroes Eric, Miranda, and the clann, have a really big problem on their hands: and so do all the Secret People in Canada. The fifth novel in the series will tell the story of what they do about that problem.
Meanwhile, I'll also be expanding the online "Guide" to The Fellwater Tales. You'll see portraits of main characters, descriptions of the various houses and clans and their heraldic symbols, some 'behind the scenes' discussion, and maybe a game or two. There's already some photography and artwork up there, and there's more coming soon. And you can download the first few chapters of three of the books, for free.
And then, that will be it. I'll move on to other projects. I really like the world I've created in these stories, and I really like these characters. I want all of you to like them too. But I won't drag them out forever. For one thing, as an independant writer, I don't have the economic incentive to keep writing more. But writing is my calling, and I would not feel right about my life if I was not writing. And although I like a complex and intricately detailed story, and apparently so do readers, I would rather write a complete story, then an absurdly extended long one.
Besides, I also have nonfiction projects on my drawing board, and I want to get on them as well.
And as always, I'm asking for all of you to read and help me promote the books. And I'm grateful for the support that so many of you have shown me so far. Cheers!
I've been reading a lot lately about the situation of young grad students or people who recently completed their graduate degrees. Many of them, perhaps nearly all of them, face ridiculous barriers to entry into good university jobs in their fields. Here's some examples:
The Closing of Academic America

http://www.aljazeera.com/indepth/opinion/2012/08/2012820102749246453.html


The Plight of Adjunct Faculty

http://www.examiner.com/article/the-plight-of-adjunct-faculty-colleges-and-universities

9 reasons why being an adjunct faculty is terrible
http://www.huffingtonpost.com/2013/11/11/adjunct-faculty_n_4255139.html


And my favourite, "Thesis Hatement".
http://www.slate.com/articles/life/culturebox/2013/04/there_are_no_academic_jobs_and_getting_a_ph_d_will_make_you_into_a_horrible.html
Here's my story.
I got my Ph.D in philosophy in 2006, and in a short length of time I was working as a sessional lecturer (that's "adjunct faculty" to my American friends) at a very fine Canadian university, one with colleagues who I liked, and where I generally enjoyed working. However, within a few years I realized that the only job I would ever get at that university, or any other, was insecure, badly-paying, part-time teaching work, with no acknowledgement of any research I was doing.
When I applied for a regular faculty position at another nearby university, where I also briefly worked as a sessional, the head of the department told me that I hadn't enough publications. I pointed out that I had published four books already, which was more than she herself had published. She replied that none of them were academic books (that was true of one, but only half-true of the others) and that therefore they didn't count.
That short five-minute conversation left me almost completely disillusioned about the academic world.
So I quit.
And yes, quitting the academy was hard. I got other jobs, some of which I hated. I got help from friends and family, which often left me feeling demoralized. I had pegged my sense of identity and self-worth on the academic mortarboard, and that made it very was hard for me to imagine any other career for myself, or any other way of life. Quitting the university was one of the most stressful and unhappy decisions I've ever made.
But the outcome has been great. I teach at a small college now where they pay me only slightly less than what I'm worth, and I love my students there. I don't give a shit about the fashion-driven rat race of "publish-or-perish". And therefore I write and publish whatever I want, with trade-paperback publishers and self-publishing tools. And now I've published fourteen books, in only eleven years.
In that sense I'm not fully "quit" from the academy: I just changed my path to get to it. I see it now as having quit the "prestige" academy.
And yes, it took me a long time to get to this point. But the single most important thing I did to get here was stop caring about fitting into the "prestige" academic world and start caring more about what my discipline is supposed to be all about: the love of wisdom, the critical examination of answers to the highest and deepest questions in life.
I doubt that I will ever work for a university again. I'm certainly not applying for university jobs: and if a university was to actively recruit me (which isn't likely) then they would have to offer me something really awesome. Because I refuse to work as a sessional, ever again.
Dear struggling recent graduate: I feel your pain. Not long ago, I was in the same place you are in now. But I assure you, there's a way out of the trap that your university has probably put you in. It's called quitting the world of "prestige" academia and doing whatever your academic discipline is supposed to be all about anyway. Just stop chasing the carrot that they're dangling in front of you, and plant your own carrots in your own garden. Remember, it's not the word "scientist" on your pay stub that makes you a scientist. It's the doing of good science that makes you a scientist. And think of how many great minds in the canon of Western civilization were never professors: Jean-Paul Sartre, Baruch Spinoza, as examples. If they could do it, so can you.
So if you're seeing too many obstacles in the academic world between you and your aim to become a good scholar in your field, then quit the academic world and be a scholar anyway. Use the public libraries or your alumni card or the internet to get your research materials. Work for companies that do work in your field, or work for government agencies that fit your interests, or get together with others in the same situation as yourself and start your own business. It's a very scary move: there is a lot of risk, and a real chance of failure. But your alternative is to chase after a carrot that your university will almost certainly never give you, and to still be paid barely enough to rent a crappy apartment by the time you are old enough to retire.
I leave you with the words of renowned scientist James Lovelock:
I have had to become a radical scientist also because the scientific community is reluctant to accept new theories as fact, and rightly so. It was nearly 150 years before the notion tha theat is a measurue of the speed of molecules became a fact of science, and 40 years before plate tectonics was accepted by the scientific community. Now perhaps you see why I work at home supporting myself and my family by whatever means come to hand. It is no penance, rather a delightful way of life that painters and novelists have always known about. Fellow scientists join me, you have nothing to lose but your grants.
(Lovelock, The Ages of Gaia, 1990)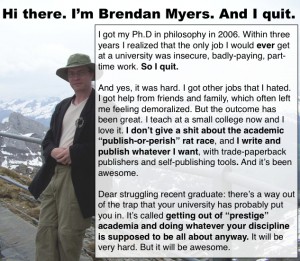 (Feel free to share this graphic around.)
I like to include a nonsense question on the front cover of my exams. The idea is that if there's something on the exam that students can laugh at, then they might be a little bit less stressed about it. I've asked students to write their blood types or their height in cubits; I asked my science students what was the square root of their age multiplied by today's date; I asked who was the most famous person they've ever met. (Several had actually met Prime Minster Stephen Harper.) In one of my exams this year, the front-cover nonsense question was: "What was the last book you read, not for school, but for fun?"
Out of 28 students in that class, many left the question blank. And one answered that he didn't have time to read anything but the book that was required for my course (which was Plato's The Republic). Those who did answer surprised me a little bit: for although many of them were reading popular books, they were not necessarily reading "easy" books. Here's what they said they are reading:
Orwell, 1984
Toni Morrison, Beloved.
Book called "Magyk"
The Hobbit
Roseland Avenue
The Great Gatsby
Kate Morton, The Secret Keeper
Creep
Game of Thrones (entire series)
Song of Fire and Ice
A Storm of Swords
Ender's Game
Tennessee Williams, A Streetcar Named Desire
The Hunger Games (entire series)
Catching Fire
Motor Trend (magazine)
Now, this is nothing like a scientific study of the reading habits of people in their late teens (that's the age group of most of my students in that class.) But there's some observations to be made here.
The first and obvious observation is that young people will read a book after it's been turned into a TV series or a movie. George RR Martin's "Game of Thrones" series was the obvious winner here: more students mentioned a book from that series than any other book (or series). The Hunger Games series was a *very* close second to Game of Thrones, and as you can see there was at least one person reading The Hobbit and at least one reading Ender's Game. Same with Tennessee Williams stage play, if you include works that were made into films many years ago. One wrote that he is reading The Hobbit precisely because the second movie based on that book is coming out soon.
Another observation we can make here, which I find more interesting, is that many young people really are willing to read long, complex, and time-demanding books – and they're willing to read them for fun.
For all my writer friends, this is good news.
I've been watching Doctor Who since I was small – Tom Baker was my Doctor. So the 50th Anniversary of Doctor Who got me thinking: what is this complicated, wonderful, beautiful, and very very weird show all about? I've settled on four themes. There might be more, of course, but this blog post got to 2,700 words so I thought it best to stop at four. So here we go:
Childhood Wonder
The doctor is always curious and excited to see new things, and discovering new life forms and new worlds always fills him with delight. Even when faced with great danger, the doctor sometimes still finds something to delight about. For instance, in one such situation, Doctor Baker* said,
That's intensely interesting. Do you realize there's nowhere to go? We're on the edge of the cosmos, the frontiers of creation, the boundary between what is and isn't. Or isn't yet, anyway. Don't you think that's interesting? I feel just like a goldfish looking out on a new world.
Similarly, Doctor Pertwee told a companion "Before you start annihilating the thing, why don't we just take a look at it?" And doctor Eccleston once chastizes a group of soldiers for shooting and killing an alien creature instead of looking at it properly: had they looked closer, they would see it was only frightened, and wasn't threatening anyone.
This unrepressable curiosity sometimes appears as madness to his companions: and he has sometimes capitalized on this perception of him. For instance, Doctor Hartnell told his granddaughter: "You know, Susan, I think your old grandfather is going just a tiny little bit around the bend." Similarly, Doctor Smith says to his companion Amy Pond: "there is something you need to understand, and someday your life may depend on it: I am definitely a madman with a box." On another occasion, when someone tells him he's basically crazy, Doctor Smith dons a sly grin and says, "I know."
In the light of this, I find it very, very interesting that some of Doctor Hurt's** lines seemed to deliberately subvert the childhood wonder theme. He chastizes both Smith and Tennant for their signature boyish battle-cries "Allonz-y!" and "Geronimo!" by saying in response, in a kind of condescending tone: "Oh for god's sake!" He had chastized them both previously with his heavily judgmental question: "what is it that makes you so ashamed of being a grownup?" The question is interesting in two ways. One is that the grownup doctor in the scene is also contemplating committing a war crime of almost unimaginable proportions: the genocide of two entire races, one of which is his own. And the other two doctors know it. And they don't want to do that terrible thing ever again.
The other interesting thing about Doctor Hurt's cutting question is we, in the audience, are invited to answer it. Doctor Who is, among other things, a kind of fairy tale about a flamboyant mysterious man who takes us on fantastic adventures in faraway places, and solves whatever problems we might find there. And the story is often told in the mode of melodrama: with our heroes ever in extraordinary danger, an overall heightened sense of emotional intensity, a "stock character" (the Doctor himself, who is so 'stock' that he doesn't even have a proper name, just a title) and sometimes "stock" antagonists (like the unambiguously evil Daleks). And, true to the melodrama style, there's a musical score to accompany the story! Audiences love that sort of thing. But this is the dramatic model best suited to a children's story. What is so terrible about an adult story? Why does Doctor Who rarely see morally ambiguous heroes, or morally sympathetic villains, or other not-melodramatic, definitely adult problems?
To which it might be replied: we sometimes do see villains who are motivated by something noble, even if their methods for attaining that goal are deeply evil. The Rani, for instance, is motivated by scientific inquiry, and so she is a kind of foil to the doctor himself. But this is an exception, not a rule. The most consistent villains, such as the Cybermen, the Master, the Great Intelligence, and of course the Daleks, are motivated by straightforward antisocial sentiments like total-conformity, revenge, power-madness, and hate.
Also, I understand that this is a question the show's producers sometimes struggle with: the question of whether Doctor Who is a children's show or whether it's a drama series for adults, with adult themes. The show sometimes does address serious moral dilemmas and adult-world problems. We've seen the Doctor grapple with the question of genocide before: in the 1975 serial "Genesis of the Daleks" Doctor Baker is given the chance to wipe out all Daleks by going back in time and interfering with the events of their creation. But he doesn't do it: he decides that no one has the right to wield that kind of power. That's an adult story. Similarly, we have seen a few occasions when the doctor shows us the guilt and the loneliness that visited him after his decision to exterminate the Daleks (!) at the cost of doing the same to his own people. Guilt and loneliness are very adult themes for a drama. But these occasions were often quickly covered up by the character's irrepressable cheerfulness, and the urgency of whatever problem he was facing at that time. And I think that's too bad, really: morally ambiguous heroes and sympathetic villains are interesting, and audiences enjoy their stories as much, if not more, than they enjoy the simple pastel colours of the melodrama. (If I may be so bold: if I had a chance to write an episode of Doctor Who, I'd write a story that creates the right harmony of childhood wonder and adult moral complexity.)
But enough of my critical comments for now. Here's another theme, curiously connected with the theme of childhood wonder, while at the same time being an 'adult' theme:
Science and rationality.
It's in the nature of the show, especially since Moffatt took over as its director, to find ordinary things and makes them scary. Shadows. Mirrors. Cracks in the wall. Wifi networks. Storefront mannequins. Statues. Children wearing gas masks. The upstairs neighbour. Little black boxes. This enchantment of the ordinary, even in the mode of terror, is a major feature of fairy tales. And as mentioned, Doctor Who is a kind of fairy tale. So, we're supposed to find those things scary. But the doctor always wants to figure out the solutions to problems, and he's never satisfied to let mysteries remain mysteries. "To the rational mind, nothing is inexplicable, only unexplained," said Doctor Baker. And similarly, Doctor Hartnell said, "You wanted advice, you said. I never give it – never. But I might just say this: always search for truth." And Doctor McCoy reminds us to find what's interesting in everything: "Nothing's just rubbish if you have an inquiring mind." This commitment to science inspires his friends. This is why Leela, who originally came from a pre-industrial society, says: "I, too, used to believe in magic, but the Doctor has taught me to believe in science. It is better to believe in science." This should inspire us too.
All the problems the doctor meets, including all the apparently supernatural forces, turn out to have scientific explanations. Of course, those explanations are often of the science fiction variety: aliens, time travel paradoxes, futuristic technology. Thus the explanation often turns out to be the kind of science which, in the thinking of Arthur C. Clarke, is advanced enough to be indistinguishable from magic. And so our sense of childhood wonder is preserved. But the point is that these threatening forces have explanations. We do not have to just accept mysteries as mysteries. We get to pull the curtain back and see what's behind it. I'd go so far as to say that the Whoniverse might be a "Republic of Heaven", to borrow Philip Pullman's terms.
In fact, the Doctor's superior knowledge, his advanced quasi-magical technology, and so on, is enough to make him an almost godlike hero. Some of the other characters certainly see him that way: Tim Latimer says of him that "He's like fire and ice and rage. He's like the night and the storm in the heart of the sun… He's ancient and forever. He burns at the centre of time and can see the turn of the universe… and he's wonderful." And Martha Jones described him as follows: "…his name is The Doctor. He has saved your lives so many times and you never even knew he was there. He never stops. He never stays. He never asks to be thanked. But I've seen him, I know him. I love him. And I know what he can do."
Indeed, the doctor is so powerful that in several episodes he's able to fend off alien threats like the Atraxis, the Vashta Nerada, the Cybermen, and even an entire fleet of alien battleships, by appealing to his reputation! That fleet of battleships had actually united their forces to imprison him in the Pandoricon: a fact the Doctor didn't know at the time. So on second viewing, that scene has a certain irony. But their assembly in the first place was all about his reputation: they were imprisoning him because they thought he was the most dangerous being in the universe.
But back to the point about knowledge. Doctor Smith, in one of his best moments, reveals just how deep his knowledge goes:
I have lived a long life, and I have seen a few things. I walked away from the last Great Time War. I marked the passing of the Time Lords. I saw the birth of the universe and I watched as time ran out, moment by moment, until nothing remained- no time, no space, just me! I walked in universes where the laws of physics were devised by the mind of a mad man. And I've watched universes freeze, and creation burn — I have seen things you wouldn't believe, and I have lost things you will never understand. And I know things. Secrets that must never be told. Knowledge that must never be spoken! Knowledge that will make parasite gods blaze!"
What's interesting about this speech is the way it condemns a false god as a parasite, while at the same time the doctor describes himself in surprisingly godlike terms. It probably helps that the scene is filmed in a highly melodramatic style. We should hope that a man as powerful as the doctor is on our side. And fortunately, he is. And this is partly because the doctor's companions frequently hold him back from assuming godlike rights and powers. Donna says to him that he needs companions because, as she tells him, "sometimes you need someone to stop you." And she's right.
Besides, Doctor Ecclestone warns us not to treat him as a god: "Don't worship me. I'd make a very bad god. Wouldn't get a day off, for starters."
There's two more themes that reassure us that he's on our side:
Non-violence
Another aspect of the doctor's commitment to rationality is the way he prefers to solve problems by persuasion instead of by violence. In any situation, the doctor is always the one with the most knowledge and the most cleverness: this is his advantage, not his capacity for violence. Doctor Troughton despaired for the prevalence of violence when he said how sad it was that "People spend all their time making nice things, and other people come along and break them." Instead of threatening an enemy, he will try to show that enemy a new fact or a new possibility that he (or it) might not have considered, or might not have known about. He tries to find the solution that's best for everyone. An example of this occurred in the 50th anniversary special when doctors Smith and Tennant say that the best negotiations happen when no one knows what side they're on, and so the doctors manipulate the memories of two characters such that neither knows which of them is a shape-shifting alien trying to take over the other one's planet. As an aside, that moment is the best depiction of John Rawls' "Original Position / Veil of Ignorance" thought experiment that I've ever seen in pop culture.
Doctor Baker's famous lines about guns expresses the character's preference for persuasion and rationality over violence: he says, "Have you noticed that people's intellectual curiosity declines sharply the moment they start waving guns about?" And Doctor Baker (the second) said of guns: "No thanks, I've given them up. Guns can seriously damage your health, you know." (This line reminds me of the Goon Show, a BBC radio comedy and predecessor of Monty Python, but never mind that for now.) It's also noteworthy that the doctor himself doesn't usually show aggression unless someone interferes with his attempt to find the best solution for everyone. On such occasions, however, his anger and his means of punishment can be very, very severe. That's where his godlike side comes out: and again, that's why he needs his companions.
Humanism
For me, the most outstanding theme in the whole series, right from the very beginning, is a kind of humanism – that is, optimism about humanity's future, and confidence in humanity's natural goodness. This theme has been repeated many times in the series. My favourite statement of this humanism is in Doctor Baker's words in "The Ark in Space":
Homo sapiens… What an inventive, invincible species. It's only a few million years since they crawled up out of the mud and learned to walk. Puny, defenseless bipeds. They've survived flood, famine, and plague. They've survived cosmic wars and holocausts. And now, here they are, out among the stars, waiting to begin a new life, ready to out-sit eternity. They're indomitable. Indomitable!"
And to reinforce this theme, Doctor Eccleston reaffirms it in the very first episode of the new (2006) series. While arguing with the Nestene Consciousness, who was trying to take over the earth, he appeals to humanity's potential for greatness: "This planet is just starting. These stupid people have only just learned how to walk, but they're capable of so much more." Actually, the doctor's interest in humanity is part of his larger interest in life in general, as we hear in Doctor Troughton's words: "No, Mr. Terrall, I am not a student of human nature. I am a professor of a far wider academy of which human nature is only a part. All forms of life interest me."
Doctor Eccleston is sometimes cynical and judgmental of people; he calls us "stupid apes" several times. But he loves us for all our faults, just the same: the overwhelming attitude is that of confidence in humanity. "It might be irrational of me, but human beings are quite my favourite species," said Doctor Baker. Similarly, Doctor Eccleston said that an ordinary man is the most important thing in the universe. This confidence in humanity is so important to the doctor, that River Song is moved to say of him: "Everybody knows that everybody dies and nobody knows it like the Doctor. But I do think that all the skies of all the worlds might just turn dark if he ever for one moment, accepts it."
We live in a time when so many social, cultural, religious, political, and personal values are changing. Very few people believe that there's such a thing as an absolute truth about anything: we trivialize good questions by saying things like "That depends," or we dismiss good ideas by saying "That's just your opinion". Or if you're an academic you might dismiss an argument by saying "That's anthropocentrism". In that sense, Doctor Who is a surprisingly modern rather than post-modern show. It stands for a number of definite values, foremost among them values like the one's I've just described: childhood wonder, science and rationality, nonviolence, and humanism.
And now, Doctor Capaldi would seem to have a new mission: to find Gallifrey. These are the values that will shield and uphold him on his quest. I hope he succeeds: if Gallifrey is a place where those values are honoured, I'd like to find it, too.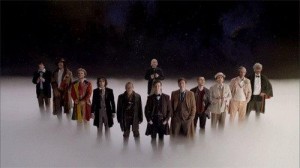 Notes

* I'm naming the doctors by the actor's names instead of by the usual convention of their numbers in order of broadcast. This is because there's now some doubt among fans about whether John Hurt's portrayal of the character is a "doctor" or not, and thus it's hard to place him in the usual numbering scheme. But I also do this as a sign of respect to the actors. They are not numbers: they are men, actors, artists, human beings; and I think they deserve acknowledgement as such.
** I'm calling him "Doctor Hurt" because he's played by John Hurt, and because he's the incarnation of our hero who decided to give up the name of Doctor to become a warrior – ie. one who hurts people (!), instead of heals them, although presumably for the sake of a noble cause. I know that the character himself rejected the name. I'm calling him Doctor anyway because at the end of "Day of the Doctor", he earned a kind of redemption, and doctors Tennant and Smith addressed him as Doctor. If their word isn't good enough, I don't know whose is.