It is not the first time in my life that someone important to me has died. But for some reason, the news of the death of my friend Jane Estelle Tromblay is affecting me very deeply. Jane and I were lovers for a long time. We shared the healthiest, most empowering, fulfilling, fun, and most loving relationship of my life. It ended when I moved to Ottawa in 2009, in pursuit of a job opportunity (which turned out not to be real). She eventually married another man, and shortly after their wedding she was diagnosed with cancer. It occurred to me this year, not long after she told me about her cancer, that I was pulled away so that her husband could arrive – he is a medical professional with the Canadian Forces and therefore much better able to care for her than I could have been. I am sure he is feeling the loss much worse than I am. But Jane and I remained close and saw each other as often as we could. When she died, she was at home, with people who loved her nearby.
In one of the conversations we had this summer, she was describing another friend of hers who died around that time from a similar kind of cancer, and how much she did not want to hear the phrase "Your friend is in a better place now". Paraphrasing from memory, this is what she said:
I hate it when people say "She's in a better place now". Because this world is the better place! Not some other world. This world, with is flowers and trees and mountains and things. This world, with all its people, living their lives, sharing friendship and love and happiness together. This is the world I want to live in! Not some abstract heaven. This world!"
I think some part of her soul was telling me how I should think of her now that she is dead. And, I think some part of Herself was telling me a home truth about what really matters.
Friends, go right now to the people you love and tell them you love them. Don't wait until you are home from work. Get on the phone, get in your car, or board a bus or a train or whatever it takes. Don't wait until the person you love most is buried and gone. That could happen as soon as tomorrow. So go and tell your friends and lovers what wonderful people they are, and do some work of generosity for them. Do it today. Do it now.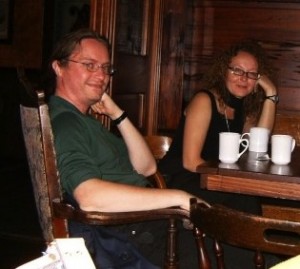 Photo: Myself and Jane at the Hamilton PPD after-party, 2008.