This morning, the news broke that Pope Benedict XIV is resigning, due to old age and poor health. Fair play to him for resolving what was, I am sure, a difficult decision.
After I heard the news, I posted the following on my Twitter feed, just for a laugh:
The College of Cardinals can vote for any baptized man to be the next #Pope. Therefore, I hereby announce my candidacy. #PopeResigns
Followed a short while later by this bit of improbable silliness:
Dear #CatholicChurch: If you would like me to renounce the Goddess and return to the Church, please elect me the next #Pope.
This prompted my good friend J.D. Hobbes, who for several years now has jokingly referred to himself as the Pagan Pope, to post this:
Hobbes / @jdhobbes
What the Vatican needs is a person who understands diversity and common sense. Vote for me: the Pagan Pope. #PutAPaganInThePapacy
Well I just loved the hashtag. And so whenever I had a spare minute or two during the work day, I posted some silly campaign tweets. Much to my surprise, they got a lot of attention, some of which from "interesting" directions. And so, in case you missed them, here they are:
Mead & steak instead of bread and wine! Saint Sophia & Mother Mary the equals of Christ! Evolution taught in schools!
Original blessing instead of original sin! Personal empowerment instead of perpetual penance! Love your gay neighbour!
A campaign to name & shame the privileged of the world, when they "grind the faces of the poor" (Isaiah 3:15)
Francis of Assisi and Teresa of Avila made official Second Christs! Westboro Baptist Church named official idiots!
By this time they were being spread on Twitter and FB rather more widely than my stuff normally gets spread. By chance I noticed an article on io9.com in which scientists observed flying squid, so I posted this tweet:
Scientists find squids can fly. Therefore, maybe I have a chance to be elected #Pope after all!
One mustn't pass over such a thing in silence, you know.
At about this time, the comments included offers to design campaign badges for me, and some said they would wear those badges at Pantheacon. And my friend Celeste created this campaign poster for me: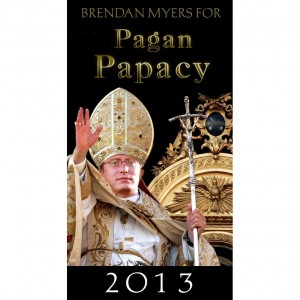 And the campaign was in full swing!
And feeling emboldened, I started to deliberately include some barely veiled political commentary (as if I hadn't been doing that all along)
Want female priests? Women's reproductive rights affirmed? More comfortable benches in your church? Vote for me and #PutAPaganInThePapacy
Want a Church whose chief weapons are fear? Surprise? Ruthless efficiency? An almost fanatical devotion to-nevermind.
Drinking horns instead of brass chalices! The Bible in Theban Script! #PutAPaganInThePapacy and let's build creepy gothic cathedrals again.
Doreen Valiente canonized a saint! Pascal's Wager applied to hundreds of gods! Vote Brendan for the new #Pope, and #PutAPaganInThePapacy
Heal the sick. Feed the hungry. Shelter the poor. Love the earth. Dance the music! #PutAPaganInThePapacy Isaiah 58:6-8, Matt 25:34-40
Made in the Image of God (Genesis 1:26) Thou art God! Thou Art Goddess! (PaganTestament §63) Vote for me for #Pope and #PutAPaganInThePapacy
Let's build a church across the road from the NYSE to remind them that usury and bearing false witness are still sins.
A tree in every garden! A chicken in every pot! A Buddy Jesus statue in every church! #PutAPaganInThePapacy, let's make it happen!
When I am elected #Pope of the #CatholicChurch, I will hire Omnia to play at the inaguration. http://www.youtube.com/watch?v=KKwVGqXM8u4
Yes, Jesus loves you. But Aphrodite loves you the way you really want to be loved.
I don't seriously expected to be elected Pope. I would be hugely surprised if an actual Vatican official even noticed these at all. I am only quite a little fellow in a wide world after all. But if anyone more important than me did happen to notice them, I hope he or she would join in the fun. Cheers!